Wednesday was an exciting day at Rowden woodworking Atelier, with the coming together of a group of interesting and inspiring furniture makers for a Woodworking and Furniture Making Seminar.
Barnaby Scott of Wayward furniture started the day with a seminar on the fusion of CNC and highly skilled craftsmanship, discussing applications  from design and experimental machining to 3D printing.  It certainly generated lots of in-depth and interesting discussions.
A series of critiques in the afternoon looked at the work of established furniture designer makers alongside the work of students at Rowden.
David Savage started with a discussion and critique of his Gracie chair and a new back gammon table and chess set.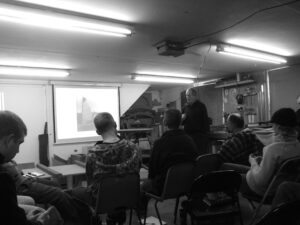 Johnathan Markovitz  of  Johnathan Markovitz  Furniture discussed a recent chair followed by Keith Fernley of Devon Furniture Makers,  Tony Portus of Cato Furniture, Fabian Maddison of Fabian Maddison Furniture and current Rowden furniture making course student  Sam with a soon to be finished cabinet.