history
David Savage had been working with wood in London, but without direction, and sought training himself, to move his skills and repertoire forward. 
He took a course with Alan Peters and realised he had found a maker that embodied a 'no-compromise' approach to woodwork and furniture, that resonated with him deeply. Alan became a willing mentor, and they struck up a friendship over many years.
David founded his original Devon workshop in Westcombe Lane, Bideford in 1983. His seemingly impossible designs were an inspiration to his clients, to woodworkers and those interested in furniture all over the world. 
He was approached by many aspiring designers and makers, who themselves wanted to understand how such unique and complex furniture could be conceived and made.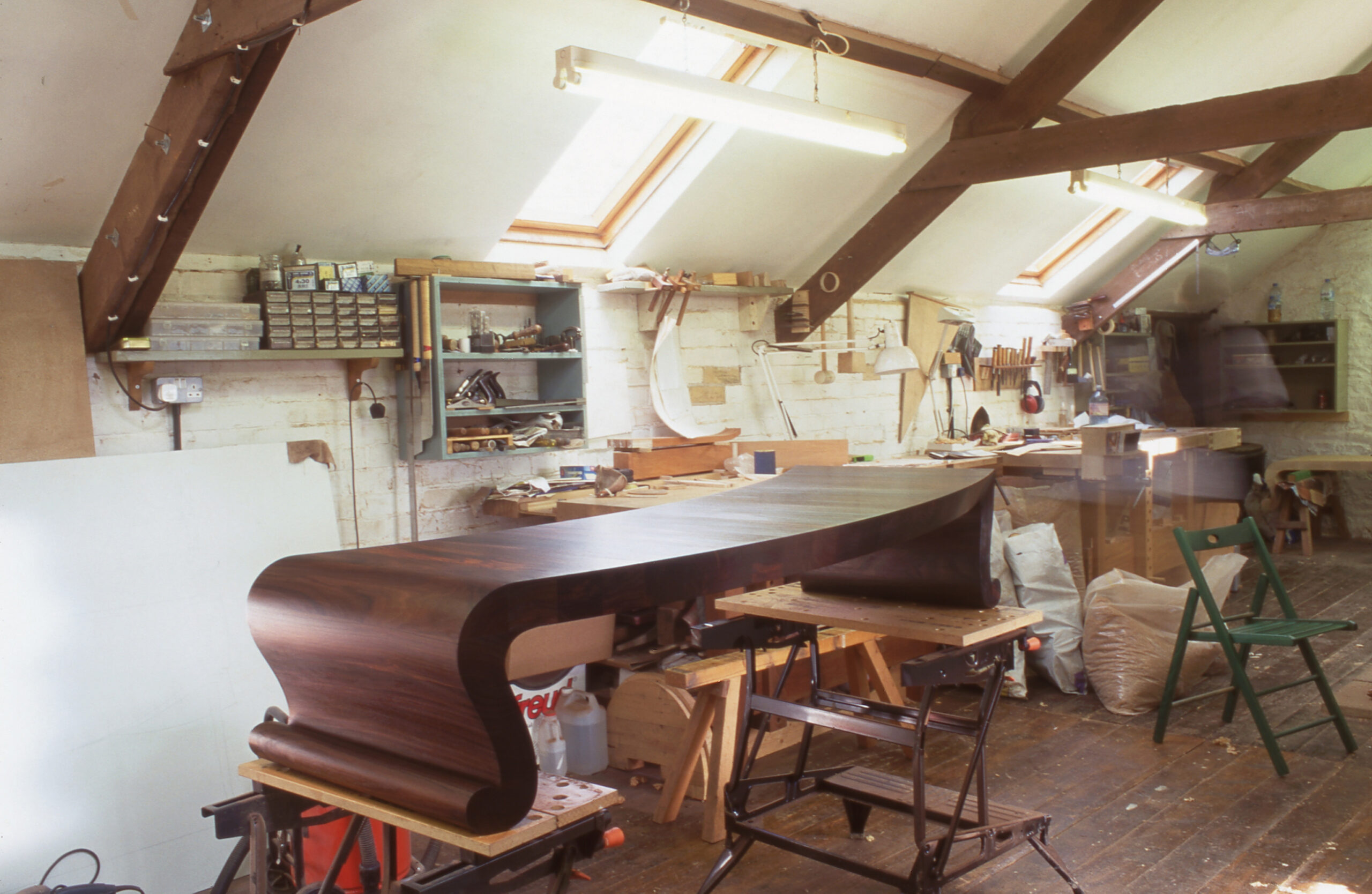 Partly to address this question, in 1995, David Savage moved his workshop from Bideford to start a new chapter in his life and work. Rowden Atelier as it is now known, was to be a centre of excellence not only in furniture making but also furniture design. David intended Rowden as somewhere that individuals could train to the highest possible standards and 'buck the trend'. He sought somewhere suited to a high degree of focus and attention, finding the perfect space on this former farm near Shebbear, North Devon. This space also offered the freedom to explore the values and quality of craftsmanship associated with the Arts & Crafts movement.
David wanted to convey these ideas but found himself a better designer than he was a teacher. Students would find themselves in at the deep end too quickly and frustrated at not being able to achieve the forms that made David's work great. His mastery was of design, not articulating how these forms came into being.
The tuition needed structure; it needed making expertise, clear progression, whilst maintaining the excellent standards synonymous with Rowden. It was an almost impossible task. David firstly worked with outstanding maker Nick Chandler. Nick was hugely influential in bringing to life, the forms that David put to paper and took some responsibility for training students. After a time, he brought in cabinetmaker and Guild Mark winning master craftsman Daren Millman. From here, the training was revolutionised.
Daren was to be the principal tutor to these aspiring woodworkers; to push them harder, make them faster and expose them to a broader array of advanced techniques and skills. He was also the principal maker for pieces leaving Rowden Atelier. David continued to design for commissions and speculatively, whilst providing an insight into his process, to students.
As the curriculum developed, David brought in award-winning designer/maker Ed Wild to Rowden, along with Jon Greenwood and others he felt embodied the necessary values. All underpinned the growth of the workshop and its student body. Each moved forward the scope of the woodworkers training at Rowden, themselves exploring their creative ideas in wood.
Around 2013, David started moving away from the teaching workshop and increasingly focused on his written work. He published newsletters about the workshop, articles for industry press and two books about the height of professional furniture making. His final book, 'The Intelligent Hand' explores in detail his efforts as an artist, as a furniture designer/maker and what Rowden stands for.
rowden atelier today
Over the decades Rowden Atelier has turned out a consistently high number of professional cabinetmakers, some working alone, others in some of the finest furniture making workshops. Daren, Ed and Jon all remain at Rowden where the coursework has refined and continued to refine.
Rowden Atelier is a place of deep work, with attention given to furniture design, making and ensuring those who undertake the rigorous training, can manifest their own vision of 'craftsperson'. 
You can find more information about Rowden Atelier on their website.