Work from the ten best furniture making workshops in the world are to be exhibited in Boston Throughout June and July 2012.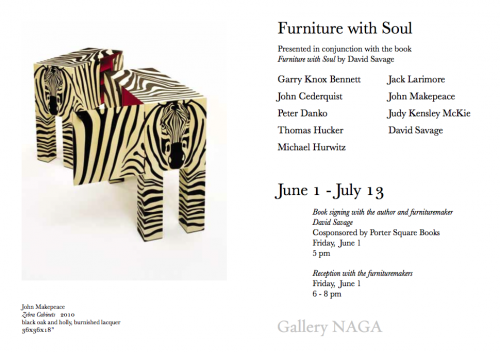 Based on the book 'Furniture With Soul' – Gallery Naga have collected work from Britain and America to show you the most exciting modern hand crafted furniture available today!
Featuring: Gary Knox Bennet, Jack Larimore, John Cederquist (see our video interview with John here), John Makepeace, Peter Danko, Judy KensleyMcKie, Thomas Hucker, David Savage, and Michael Hurtwitz.
Exhibition Opens June 1st and runs through until July 13th.
David Savage will be in attendance for a book signing of 'Furniture With Soul' from 5pm on Friday 1st June. The Furnituremakers will be at a reception between 6pm and 8pm.
See more about David's book 'Furniture with Soul' here