Sun Burst Veneers
One of the things we have to do for this job in Dubai is two relatively small trays that sit on what I can only call upholstered low "poufes". These are to be veneered on a sunburst pattern where all the veneers meet at a point in the centre of the board. Daren's just called me out to have a look at the veneers we have. He's laid them out in the machine shop to try and select what areas we're going to use.
To do this we use two mirrors taped together to help us to see what it might look like when the irrevocable choice has been made and we have cut the veneers.
There's going to be 32 veneers in this circle. So what we try to do is to find a feature that will echo around this circle and we've picked two small defects, a pip and a slight wiggle in the grain. We're going to see what they look like. We have a third one that is an area of grain that is a bit like an eye. But I didn't want to use that, I'm slightly concerned that it will just be too overt and too obvious. What I wanted was something that was very subtle and clever.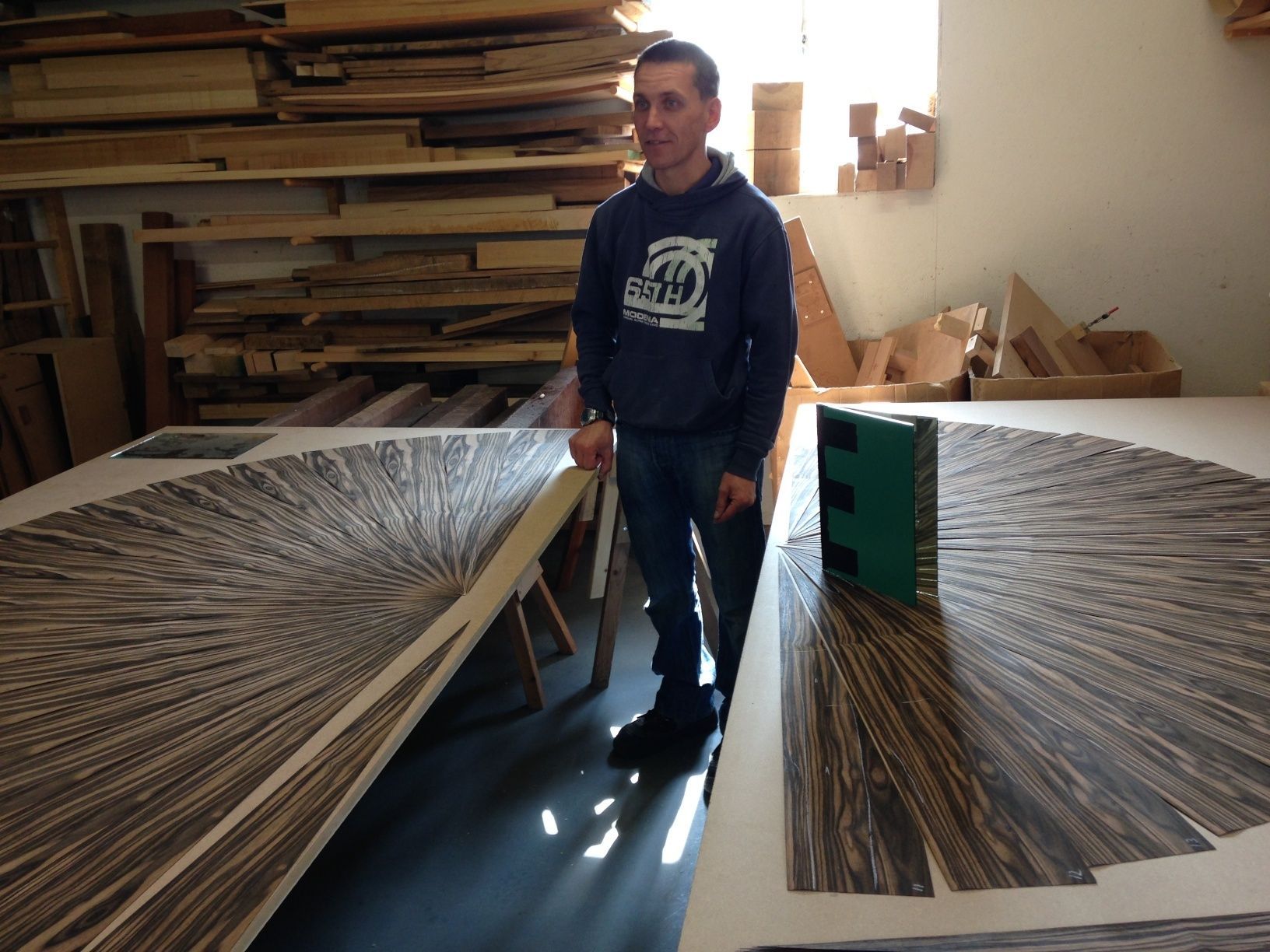 The young guy in the photo below is Giles. Who's been taught how to do this. He's a very conscientious and attentive young maker and we hope he'll be absolutely fine doing what is required from him, which is very meticulous work. Sunburst is one of those things where if you get it wrong the whole thing has to be scrapped and you start again. It's the death or glory furniture making. Either all of the veneers end up at a smack on the point at the centre of the piece or it goes in the bin.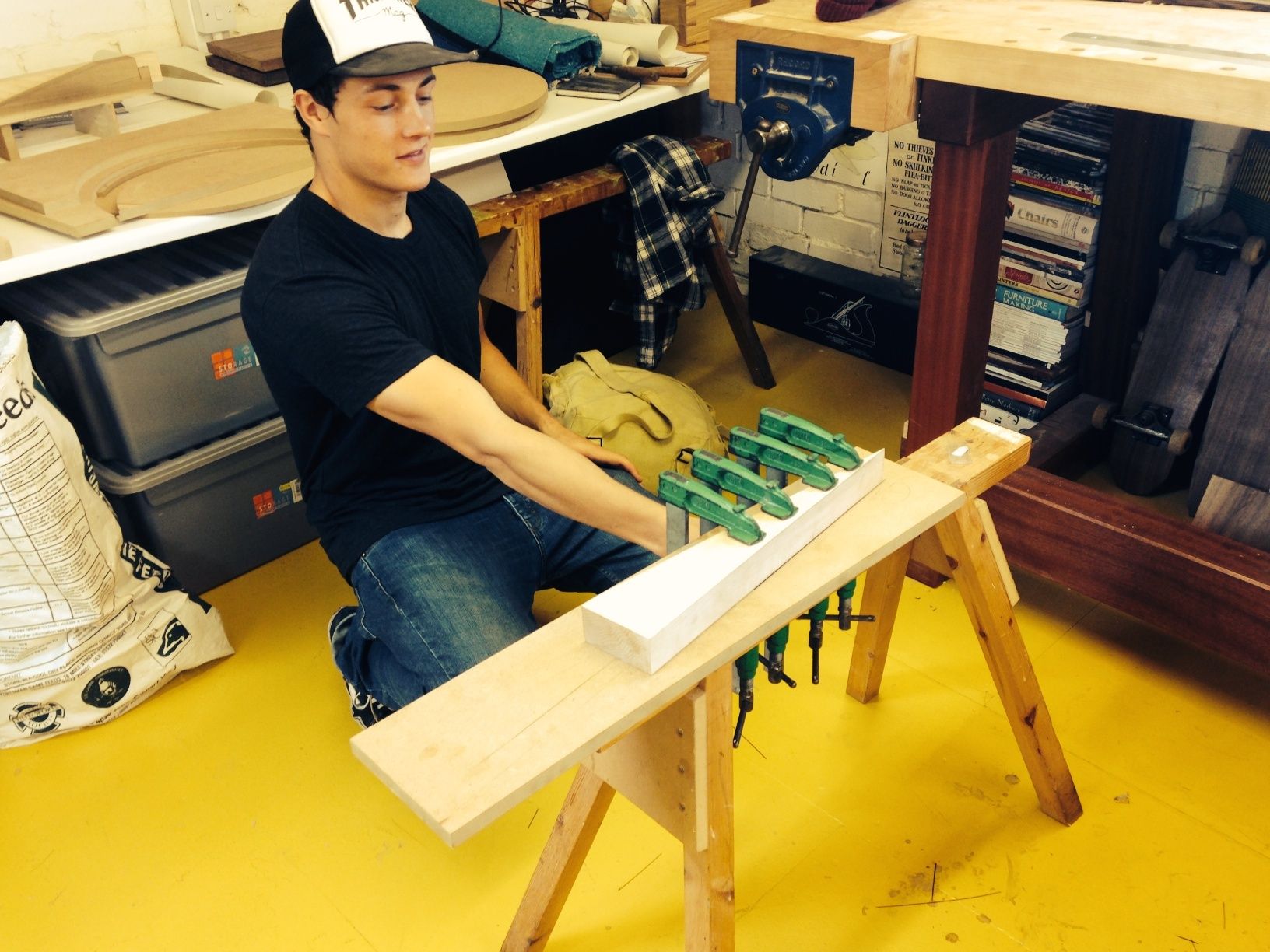 Giles next has the job of cutting these up roughly so we can see the pattern better. We then select the best two out say three or four possible tops. He then knife cuts the joins. Thats when it gets critical.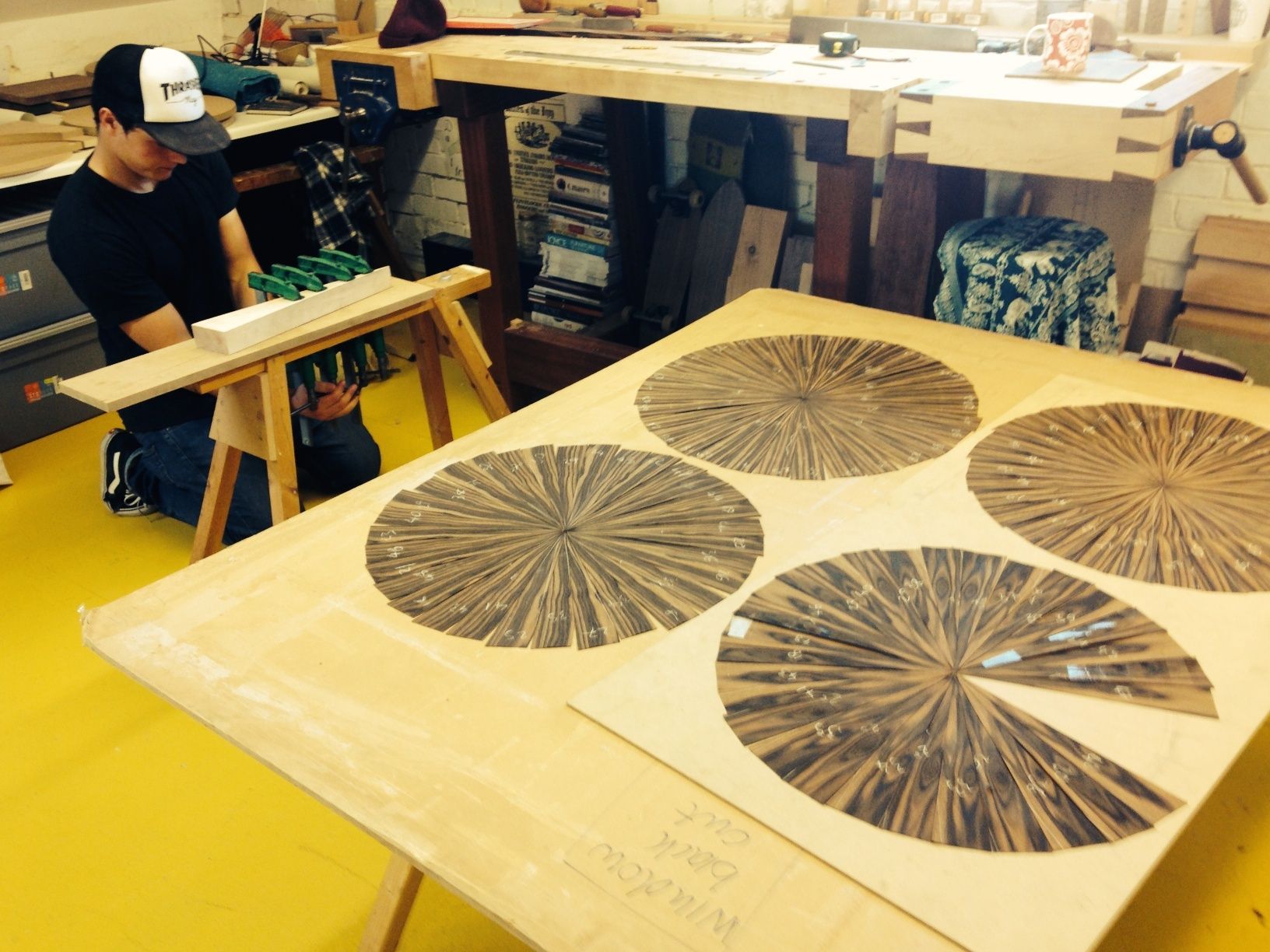 There are a few "technical" bits about doing a sunburst which we pass on to students and to our makers. It is precise way of working to great effect. Things like when you lay up a sunburst you don't lay the last leaf. The glue hits the veneer and the outside expands more than the centre so you need to leave space for that expansion. Once dry you then cut in the final leaf . And that is tricky.  But I have to say its not something we give away for nothing. Our students have an understanding of how to do this specialist work that will give them a USP in a competitive world where nearly everyone thinks they can learn it all from the web. Nah, you can't!