Meet Gideon Traas.
Gideon came to Rowden from Holland a year ago to undertake the year-long Designer/Maker course.
For his final piece he settled upon the idea of a pair of side tables, similar but different. The same shape and dimensions, and using the same types of wood but in different configurations. I think you'll agree the results are pretty spectacular.
"In general, I don't like things that are very basic and simple," he tells me. "I see myself making pieces at the opposite end of that spectrum – a piece that might be very present in it's space, but will draw you in to keep  looking at it. I might create some odd shaped pieces, but they should still serve their purpose."
The design of these tables started with the idea for the tabletop. Gideon took the idea for the 3D effect from something he was working on a few years ago. The original intention then was to make a clock! "The original parts for the clock are still sitting in my workshop, partly glued up, but in my year at Rowden I have learned that, in fact, it is impossible to make it the way I was planning. This is mostly related to wood movement, but these tables are now made the right way to maintain long lasting quality."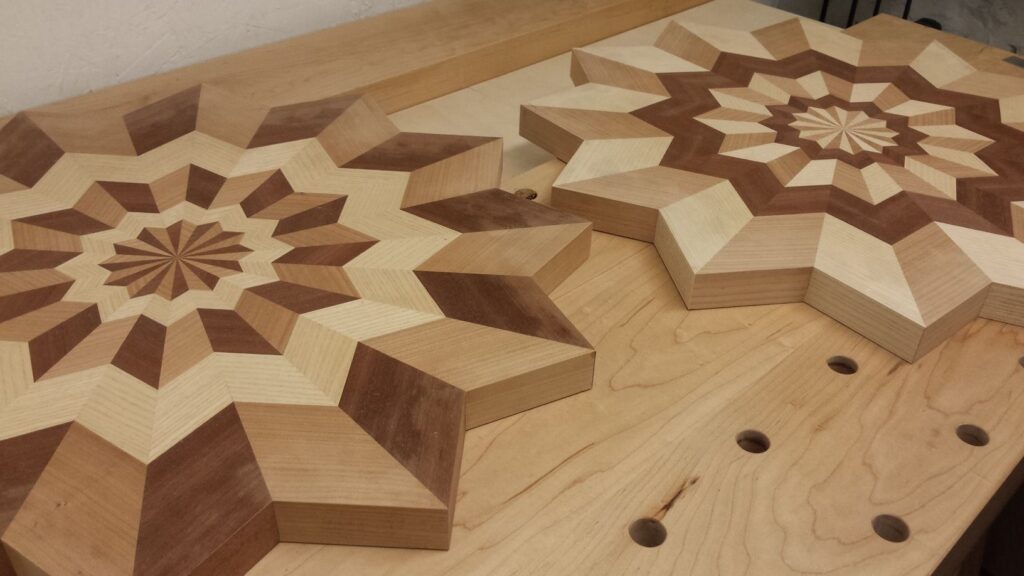 Just one of Gideon's tabletops has no fewer than 168 pieces of veneer on it! That includes the 'regular' sunburst on the reverse of the top, which was quite a challenge, to say the least. With the tops almost complete, all that is left is some work on the under frame.
Officially, Gideon's year at Rowden finishes this week, but he will be staying on for a month to
'finish up'. This is another advantage of the course here. We never kick out a student on their finish date if they still have work to do. Whether it be for a couple of weeks or months – or in some cases even longer – we are proud to be able to offer our students the help and support they need, when they really need it. Heading back out into the real world, often to start a new business, can be a daunting step and we are happy to help in any way we can.
As for Gideon, I have a feeling he will be alright. Having worked with wood for about five years now, he knows he is on the right path, and his passion for what he does – and obvious talent – is clear for all to see. "My aim is to design and make handmade, high-quality extraordinary furniture," he says. "Artistic, one-off pieces, or very small series, made mostly out of common, good quality hardwoods."
We look forward to seeing what the future holds for GIDEONcreations.
Follow Gideon on Instagram at http://instagram.com/gideoncreations