Hello!
One of our customers who had ordered a French Polishing Kit had a couple enquiries about applying the Polish. Removing old finishes and applying the new Shellac to the surface. This can be quite tricky if you haven't had any guidance first hand. Hopefully this might give any of you budding French Polishers some friendly tips.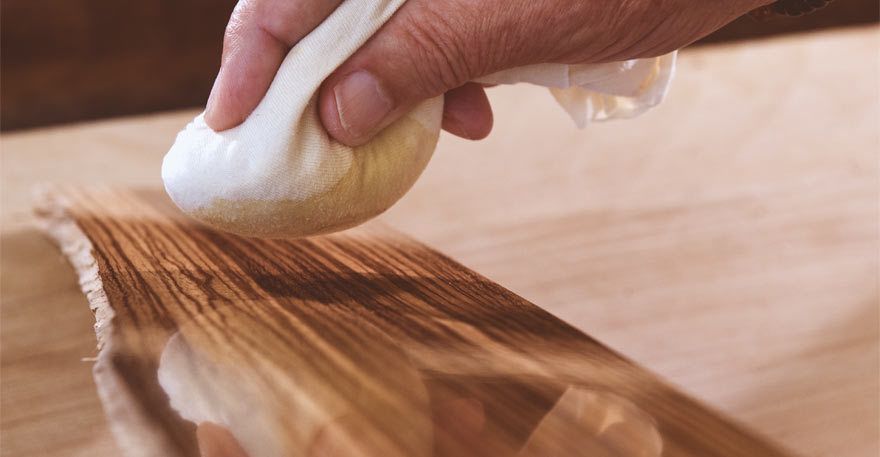 Hi David,
A little while ago I purchased the French Polishing kit from you. Due to my move, only now I started practicing French polish.
I only need it to polish up antique furniture, so they already have some finish on them. Some of my clients are on a budget, so stripping off the old finish isn't an option in many cases.
You advised me do use the wood reviver (1 linseed oil – 4 white spirit) to clean off dirt and grease.
I'm practicing here on my own antique cherry /walnut wardrobe, which had been in storage for a number of years.
I used the reviver to give it a good surface clean but not much dirt came off. So I started with the French polish solution I mixed up from your kit and as soon as I put the rubber on, it's all getting brown and dirty.
Also instead of seeing a shiny, polished surface after rubbing it, it all gets matt, showing the strokes I made with the rubber. I also tried wiping the wood with methylated spirit first, which makes the rubber all brown and I wonder if it will also take off the original stain.
My wardrobe has a sprayed finish but was polished over with shellac in our workshop – about 25 years ago though.
Would you recommend to slightly sand the surface prior to polishing? I like to use fine spongy sanding pads to avoid cutting in too much.
Any advice you could give me would be greatly appreciated.
Many thanks
Simone
Hi Simone
I cannot and will not do "on line coaching" as however well you describe your problem I cannot see what your problem is. However I will try this once."The brown and dirty" may not just be dirt but could be brown shellac polish. Try adding one part meths to your reviver . This may melt the shellac slightly so use it carefully. .
However is sounds like you are well past gentle caring removal.  Wiping with raw meths may well have removed all the shellac polish on your job, as I am not there I cannot tell. If it was sprayed it may have a cellulose finish with as you say a very thin coating of shellac which you have gone through.
I suggest that you follow the video , sand the raw timber as we suggested and get the feel of polishing on raw timber. Replacing as you are attempting demands greater knowledge of the process of polishing that you have. Get the feel of polishing on raw wood then go to the wardrobe again sand it back to an even dull surface get off all wax and get it evenly dull with abrasive then try again
good luck
david
Hi David,
Thanks a lot for your prompt reply – and even on a Sunday – very much appreciated.
I will try your suggestion and add some meths to the reviver.
What I was trying to say is that I didn't get anything off really with the reviver (linseed oil/ white spirit), the cloth still was almost clean. As soon as I put the shellac mixture from the kit on the rubber and then onto the wood it got dirty immediately and felt somewhat sticky. The rubber left a matt, dry and patchy, rather than smooth shiny surface. So I guess it must have reacted with the existing finish.
I do understand that you cannot give advice without having seen the actual piece. And I appreciate you're giving it a try.  I should have watched our polisher doing the work back then in the 80ies, I might be a bit better off now 🙂
I know there are no short-cuts, I have to learn things properly and shall do some practice on raw timber to gain experience.
Many thanks David
Best wishes
Simone
————–
More Email correspondence from a budding woodworker with her French Polishing project:
Good day Mr Savage,
I am attempting to French Polish a piece of furniture that I had made. I bought your discs and starter kit. Both which are very helpful. I have been practicing on a piece of scrape veneer from the piece. It looks OK but there are some glossier places in the piece. I was wondering if perhaps I did not sand it enough in the very beginning. It looks OK but not really as professional as the piece deserves. The top is out of Ebony and the sides are out of Leopard wood, both veneers of course.
Do you think it is the sanding or lack thereof?
Respectfully,
Donna
Hi Donna
I believe without seeing it that almost certainly you have not got back to bare wood and made an even surface. So some areas are polishing up faster than others making it very hard to resolve. A skilled polisher would build up the dull areas around the shine but you are not at that stage yet. Get the surface back to clean smooth wood with no blemishes. It is a very common mistake. We sand, think it's OK, then polish only to find its NOT OK and we need to go back to basics. Follow the instructions to the letter.
Best
David
As stated above, it is hard to do online coaching and it isn't something that we do here. But I do hope this helps fellow woodworkers with your own projects!
Have fun!