Matthew Duckworth
We are delighted to announce that one of our former students, Matthew Duckworth, has been selected to take part in the Crafts Council's 2017 Hothouse programme.
Hothouse is the Crafts Council's creative and business development programme. It provides both holistic support and business skills to a select number of up-and-coming makers. The selection process is pretty rigorous, and it is testament to Matt's fantastic work that he has been selected.
Originally a stonemason by trade, Matt spent a number of years travelling before returning to the UK ready for a career change. With a workshop on the family farm back in Yorkshire, Matt had always had an interest in woodwork and so decided to join us here at Rowden for the one-year Designer Maker course. "I found Rowden an amazing place to study with a very supportive atmosphere that allowed me the freedom to develop my ideas," he says. "From the outset, the tutors push you to work to the highest standard. I feel that their encouragement to continuously challenge me to go the extra distance resulted in a level of work I could never have imagined before I started the course."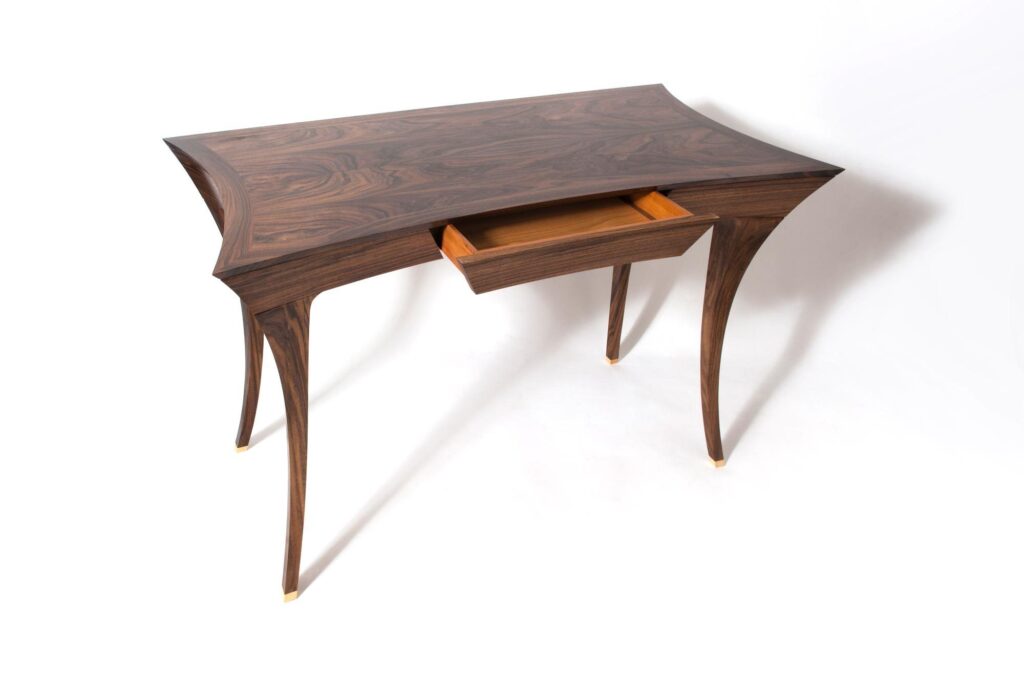 Matt's award winning Mallard Desk
Matt is passionate about using locally sources timbers to make beautifully handcrafted bespoke pieces. A perfect example of this is his award-winning Mallard Desk. The desk itself is made from English Walnut, whilst the drawer is English Pear with an English Cherry base. Stunning, I think you'll agree. They certainly did at the Somerset Guild Furniture Awards where it was awarded first prize in the People's Choice Award.
Despite only finishing his course towards the end of last year, Matt has already spent time working as a maker here at Rowden. He has also made for James Morley and Bark Furniture. He's even managed to squeeze in a couple of private commissions along the way.
Well done Matt. We look forward to watching your progress over the coming months, and beyond.
You can keep up to date with Matt's progress via Instagram here.
Until next time,
Lakshmi