Steve's stunning Bistro Chairs and Table
A review of the furniture making course
For this blog, I am going to hand you over to one of our furniture making course students. Stephen Hickman. Steve has just completed the one year Designer-Maker course here at Rowden and I asked him to share his thoughts on the experience. Fact is, he enjoyed it so much, he is still here, having now moved into our new post-graduate studio. But more about that another time. Over to you, Steve…
Rowden was a long time coming for me.
I first discovered David's website back in 2008, and spent a lot of time reading the articles and admiring the furniture. The student pieces looked professional, and the professional pieces looked impossible! By the time I arrived to start my year-long course in September 2015, I was ready to make the most of it.
From the first day, the standard is perfection. For those first few months we learn to use the tools and we learn to see. What is flat? What is square? If you can't see it, you can't get to it. This isn't innate, it takes practice. There is no substitute for standing at the bench and working those tools – training hand and eye.
Along with the practice, Rowden exposes you to a whole world of fine furniture that you never knew existed. Purpleheart, for example, caught my attention pretty early on. A beautiful purple wood. Beautiful, hard, brittle. Idiosyncratic. That captivating mix of beauty and insolence. I used it in making the contrasting dovetails on my bench and I had to use it for my jewellery box. Working it to a fine finish was a challenge, but eventually I got there.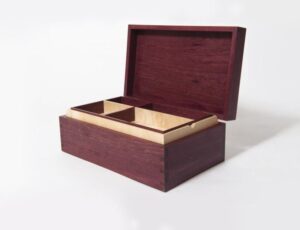 Jewellery Box in Purpleheart with Sycamore liners           
After the jewellery box, the time is ours to make what we like. I made several pieces to learn the widest range of skills I could – an oak tool chest, a walnut writing cabinet, a veneered table, a pair of chairs. There are pictures here, but do head over and check out my blog to read about these pieces in more detail.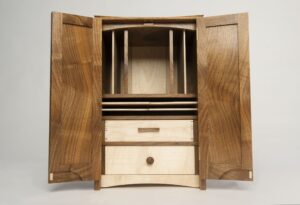 And now, well…I'm still here, extending my stay in the new post-graduate studio to develop my portfolio. I am making a couple of pieces for an exhibition, and I will also be making something for David – one of those impossible pieces, perhaps. But now they no longer feel impossible. Difficult, maybe, but persistence and a slow-steady climb gets you there.
Like I said, Rowden was a long time coming for me, I'm not going to let it go that easily.
You can follow Steve's progress on his blog
                                     Writer's Cabinet in English Walnut and Sycamore