This week we hear from Neil Godden, who has been a short course student here at Rowden. It is great when students come back to us to talk about their experiences here – and for anyone looking to embark on a Rowden journey of their own, it is a must-read. Over to you Neil…
"Just now I am that child learning a skill, it is a place of wonder and awe. Learning the skills of construction in wood, whilst challenging, is so much more enjoyable and focused than my more recent efforts to pursue art. One of the effects of Rowden is the acknowledgement of grafting with all of the focus you can muster for as long as you can keep going. It is a culture that is encouraged in the same way that Andy Warhol encouraged his Factory students be they artists or musicians to work, work, work.
So, where does Rowden really sit in this equation? There is the culture of the work ethic, there is the brilliance of the staff. There is, in my experience, the completeness of the starter projects to test you in developing the basic skills to a finite degree. A word of warning, though. If, like me, anything less than perfect is not enough; if like me you suffer this same condition which has caused you to drive yourself crazy in the regular working world then here is the pulse of the heart of Rowden's voodoo magic utopia.
What you find here is a collective of people all driven by their own personal desire for something individual to them, presented within an environment in which to give everything they themselves can muster.
There exists an opportunity to learn not just from the schooling but just as importantly from the students. The schooling will certainly present you with the opportunity to learn in both respects, but residing in this culture can only develop the mixture of soul food that best helps nourish the visualisation process. It makes the process of fleshing out the bones of a dream a manual process limited only by your own input.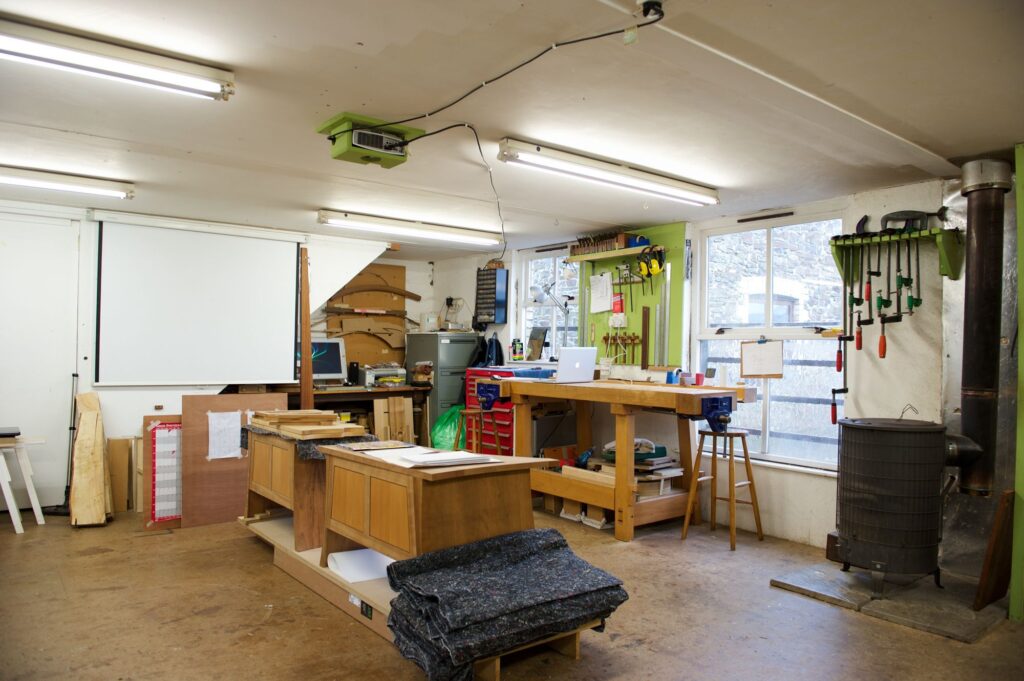 So how badly do you want this dream? Taking a punt on visiting Rowden and enjoying a tour of the workshops with Daren, I was struck immediately by the passion, not only of the students but of the tutors. I was shown David's bedside cabinets, at that point the carcasses were constructed but the top and front doors not affixed. What I saw sang to me and I knew I had to get here – and quickly. There was a huge Oak dining table nearing completion also but it was those bedside cabinets that ignited the passion.
That was June and I booked a one week course for mid July.
Claire and I agreed I would undertake up to three one week courses before deciding where we would go with this as a career decision as there were so many unknowns to be addressed. It was remarkable to see the look on Claire's face when she came to collect me at the end of that first week. It was nigh on half past six in the evening and I said that I needed another hour or so to finish off what I was doing, unless she wanted to spend the weekend in the tent with me?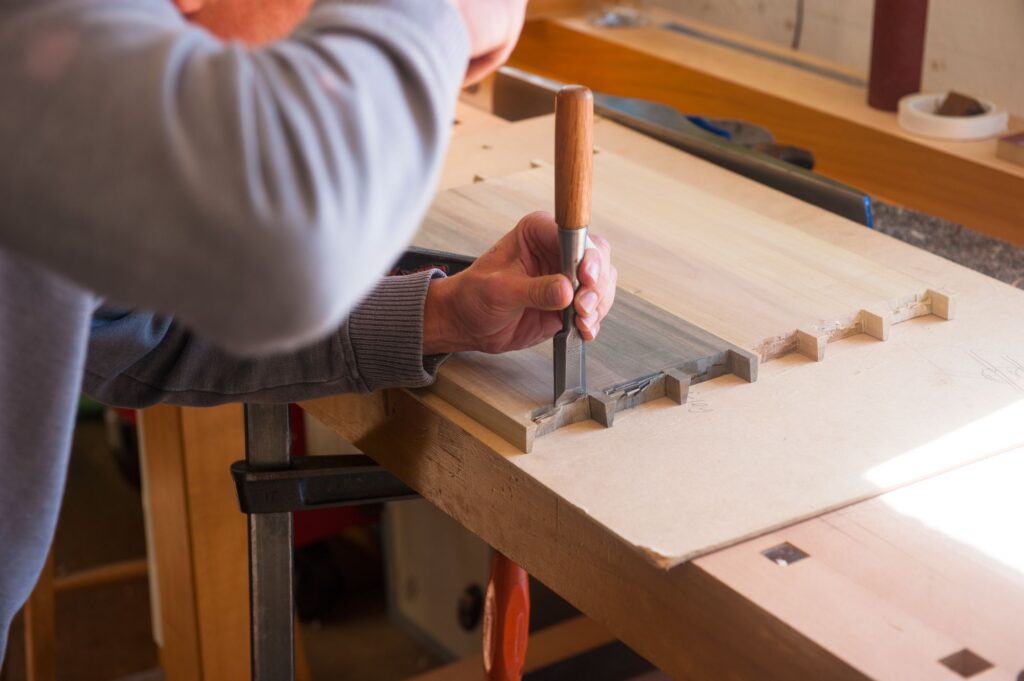 What she witnessed was a man re-born following a difficult eighteen months where work had taken over my life, and with an obsessive compulsion I just couldn't let go. When she saw those 'simple' projects I had completed she knew in that moment I was able and just as importantly fully committed to gleaning as much of myself as possible in addressing the 'cost-effectiveness' question. It also answered the question as to whether Rowden was right for me and whether I was right for Rowden?
Now the notion that I questioned whether I am right for Rowden may seem like a peculiarity. After all as a paying guest I should have expectations of them in fulfilling my remit? Well, I guess this is where we all have a personal perception of the value of our education.
For me, this place in my mind at least, is comparable to the Michigan Institute of Technology or Oxford or St. Martin's. It exists as a benchmark in its schooling. I naturally want to excel and find my place in its roll call as would any student working under the instruction of its master. In this respect the effort and focus I committed to my second week of instruction in October left me practically punch drunk with exhaustion.
Whilst a strong work ethic is the spine of this workplace, you learn quickly when you observe the senior students that the pace at which they operate is somewhat more relaxed than you would naturally envisage. Such are the demands of working to such finite precision that you quickly adapt the practice of applying tool to wood only when you are certain of your intended outcome. Failure to do this results in error… I had no spare time whatsoever for rectifying error and whilst my ultimate outcome was not perfect, I did satisfy my expectation to deliver the very best I had to offer within the time allowed.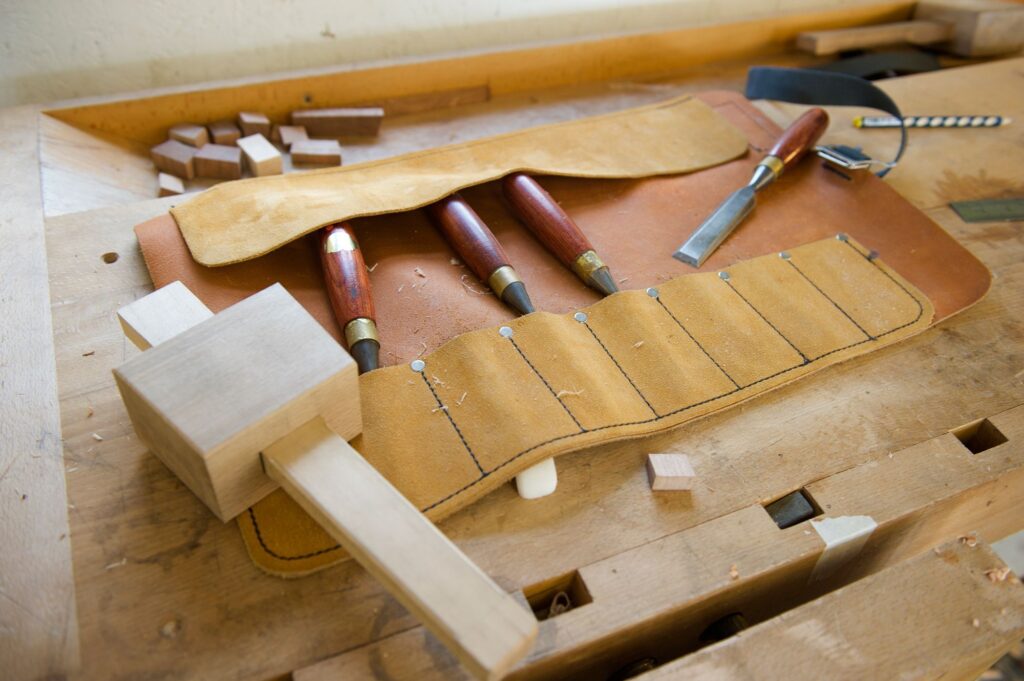 Now with this all in mind, I have a dream for sure. But in the cold, steely grey reality of the real world, economics control activities. I am resigned to the fact that, for the time being at least, I'll be attending Rowden on a weekly basis. For the foreseeable future I am financially limited. Self financing from a very limited income that is divided between the needs of putting together a functioning workshop, acquiring materials and education, not to mention the costs associated with our wedding in April. All are approached on a 'immediate need' basis. For the next six weeks or more I shall be practicing my newly acquired dovetailing skills making drawers for my workshop counters. Going forward, whilst I would love to get back into Rowden as soon as possible, constraints are causing me difficulty in pinning this down, but as always an answer will present itself in the course of time.
For me I have this natural inclination to want to be at the finish line prior to placing a racing toe on the start. But this is a long road with no finish line in sight and no expectation of a destination that states you have arrived. Being a racing hare only got me this far, a plodding tortoise I fancy will take just as much energy with a slow-burn focus but as my white-board declaration states 'a sense of lasting satisfaction from my efforts'… This is my ambition, Rowden in these formative years will be an invaluable feature of this road less traveled."
Thank you for your thoughts, Neil and we look forward to welcoming you back soon.