Short Courses at Rowden: Heads UP!
Below is a lovely review of our short course from Quentin who spent three weeks with us at the end of 2016 . I want to give you the dates of our one week Basics courses as this is where almost every one starts. Our courses are different. They build on your needs into one month or longer stays. To start they are USUALLY ONLY TWO STUDENTS TO ONE TUTOR. They are very popular and I wanted our community to have advance notice of dates.  Our short course details can be found here
Currently we have spaces to welcome you to Rowden for Five Days Basics ON 
Week beginning Monday 13th February ONE place
Week beginning Monday 27th February ONE place
Week beginning Monday 6th March ONE place
Week beginning Monday 27th March ONE place
Week beginning Monday 3rd April TWO places
Week beginning Monday 10th April TWO places  ( Good Friday is included in this week )
Week beginning Monday 24th April TWO places
Week beginning Monday 15th May ONE place
Week beginning Monday 22nd May TWO places
Week beginning Monday 12th June ONE place
And alternate weeks thereafter
BOOK NOW AS THEY WILL BE GONE VERY SOON
Cost is £790. Deposit £290. To reserve your place, contact me directly. We can help with any variation you may require on the offer, and with local accommodation
I look forward to working with you at Rowden
David Savage
Review of Rowden Short Courses by Quentin 
Looking back on my time in Rowden, I have very happy memories and real gratitude at what I learnt in three short weeks. I have a "small" workbench set up in my study and have been trying to keep my hand in on what I learnt.
Led by you, David, you have all built up a fantastic working and learning environment in Rowden. I was made to feel very welcome and such was the camaraderie, it took no time at all to feel both at home…
Jon, your patience was incredible and you really have found your vocation in introducing students, with little real knowledge of wood working and woodworking tools, to the wonders that can be achieved with some basic tools, hard work and patience. Your teaching of techniques was very clear and explanations were also easy to follow and understand. The mini projects that you have all designed to put the theory into practice are excellent and it was great to come home with some tangible outputs as well as practical learning. The breadboard is still in its pristine state! The notes come out every now and then also.
I can see why you insist that all students start with the basics and it's an approach I wholeheartedly endorse. Without the basics of squaring a piece of timber and making basic joints (and not withstanding my personal frustrations in getting across those first hurdles)' I can't see how anyone could go on to make anything of the precision and accuracy that would be demanded from a paying customer.
You could take on a lot more people like me and run bigger school room courses that would see students off happy after 2/3 weeks with nice things to show off, but without having instilled the disciplines of accuracy, hand crafting and fine finishing. It's a credit to you all that you have eschewed that approach in favour of starting your students down a road towards real craftsmanship.
This degree of precision and accuracy demanded at Rowden was perhaps the biggest revelation for me. Working to parameters of fractions of a millimetre with timber was beyond my comprehension but I can absolutely see the necessity. A fraction out at one end of a sideboard would be a massive gap at the other.
The importance of sharp tools was close behind. I thought I had sharpened chisels before I came to Rowden, but I was so far off the mark in terms of what I learned from you all. No chisel I ever bought in the past was ever as sharp again after first use.  I now know how to maintain an edge I would never have dreamed of in the past. Knowing how is one thing though – putting it in to practice will need discipline.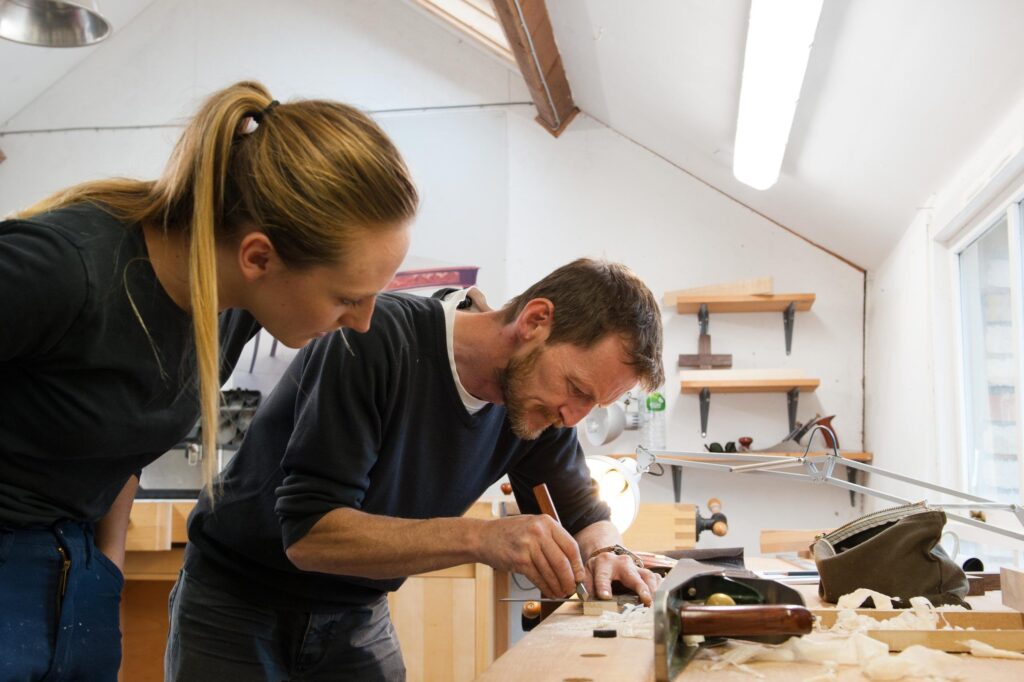 When I think back to the "shavings" I was taking off with the plane in the first piece of walnut you gave me in my attempt to square it off, I realise how far I came in the three weeks. If you had said to me that I would be using a number seven plane to literally take off dust by the second week I would have doubted your sanity. Such are the basics which everyone must come to appreciate before they can go on to more momentous projects.
Should you have anyone thinking of doing 2/3 weeks at Rowden like I did, I would be happy to give them my wholehearted endorsement of Rowden, the quality of the tuition and the fantastic learning environment.
David your emails are fabulous and I enjoy reading them as they come in. Keep them up. Josh's sideboard was fantastic to see in finished form having seen the complexity of the lamination that he and Duncan had to contend with. "
Best wishes for a happy and prosperous 2017
Quentin Lamere