THE BLITHERING IDIOT
I think I've come to rate family and friends as the most important things in life. Someone once told me there are six handles on a coffin. Six good friends, then you're doing really well. At the beginning of this year, I learnt that one of my best mates. Tony, will no longer be with us. He'd set himself up to take retirement and live in Utah with his lovely young American wife. I first knew Tony over thirty years ago in the East End of London when he was a teacher in a school for truants. Now that may look like a contradiction in terms, and it is, but he was only an exceptional teacher. Those skills were crowned with even more responsibility and he ended up as a "super head" with more admin stress and trouble. That stress nearly killed him, when he took early retirement which finally did the job.
Going to Utah with Susan, taking up painting and getting a bit more exercise to lose a bit of weight was the plan. In this pursuit, he was bombing around the mountain tracks in the sun on a quad bike smiling from ear to ear like an idiot when he was able to drive off the track and really kill himself.
Blithering idiot.
I get to tell you this only because Tony's widow. Susan, has asked me to make a box for Tony's ashes. This has had the wonderful side-effect of bringing me on the tools with a purpose. Earlier I mentioned that one promotes oneself …… This means in my case is that I don't seriously make much anymore. I do bits of making, I solve three dimensional problems with models and prototypes but I do know how to really make. I delegate making with better makers than myself and I delegate very effectively.
In this particular situation, we're trying to push the boundaries of furniture making. We're shoving at the edges of how wood performs. How far can we bend it? How far can we shove its limitations in order to create new forms and new structures? In order to do that we must have intimate knowledge of our material and intimate knowledge of the processes of moving it around, of shaping and forming it.
Now I have spent long enough on the bench to have that understanding. And I have also spent long enough supervising other makers to see the problems they engage with and have great sympathy for them. I attempt to never try to put my makers in an untenable situation. I have too much respect for the amount of energy they put into creating the pieces of furniture. But it does mean with all this faffing around designing, that I don't get on the bench as often as often as I would like. Or not in any seriousness anyway.
It has been great fun making this box. I know how to dovetail a box together almost in my sleep. And I made this box whilst teaching a short course. We had people here for a week. I really enjoy taking these "Basic" one week courses, because it means meeting new people and talking about something i know. So while I was teaching them I was also fiddling around with this box. And it came to me. I can still saw straight. I can still mark out correctly. I can still pare to a line, if I'm careful. Seeing is often a bit of a problem. Getting older your eyes aren't quite as sharp as they once were and I happen to only be very good if I take my glasses off. If I wear contact lenses, which I do sometimes, I'm completely stuffed. Then I'm pretty clear on almost all distances but not really dead sharp at any distance
I love getting back in the simple things. You can do an awful lot with a really good bench, with good vices at either end, and a dead flat surface. A box of halfway decent hand tools, that you know how to use, and a bench light. With those, you can almost make anything.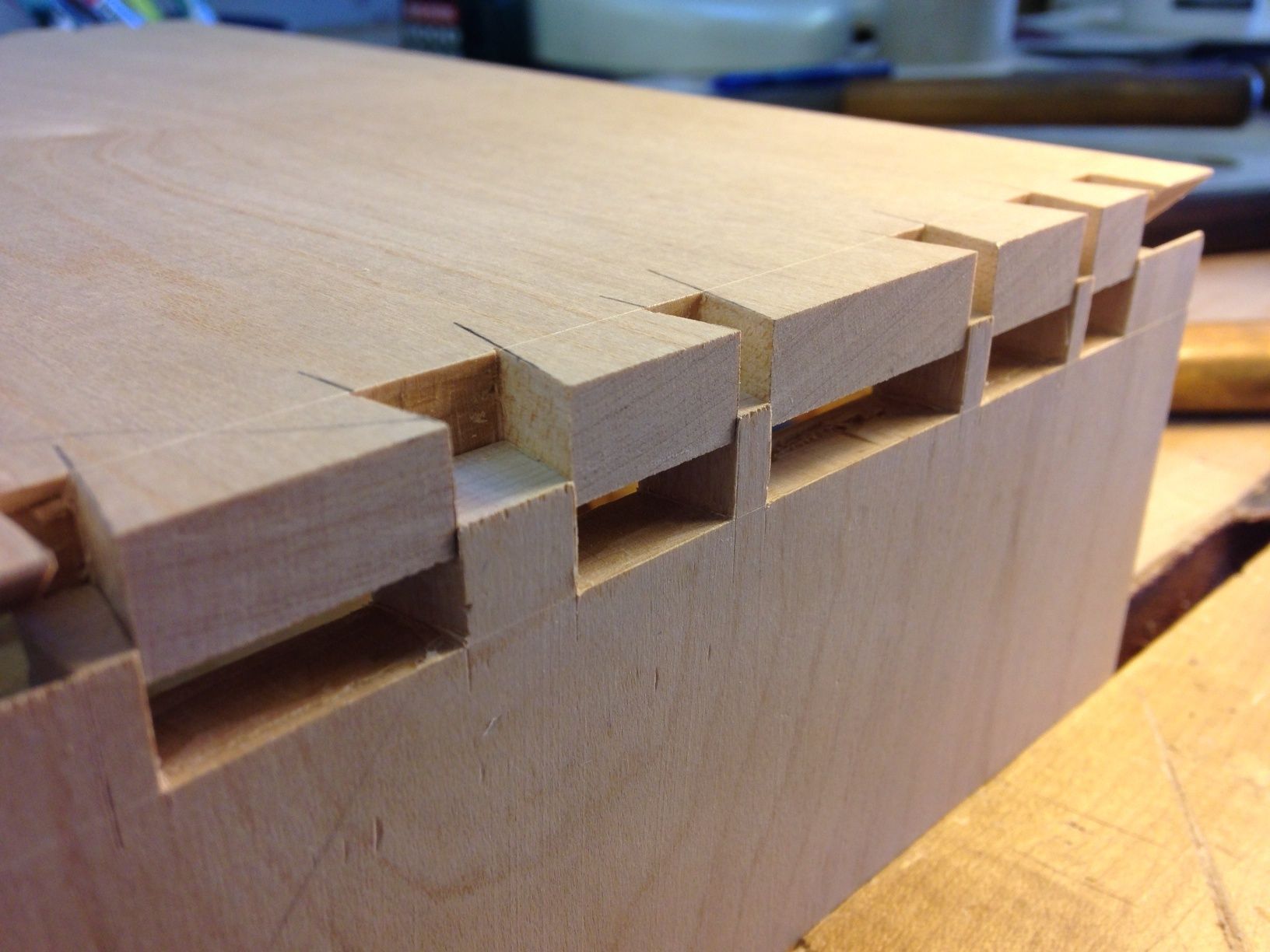 There's a machine shop just at the back of me whirring away, but I've really enjoyed making this box without going anywhere near machines. Rebates have been established by little rebate planes and cutting gauges. It's all taken a little bit of time. But it's been a nice time. Well spent. While I've been doing it I have been talking to Tony "Is that alright for you Tone'?" "How we doing there, mate? You going to fit inside there? You be alright, nice and snug?".
On the front of the box is going to be a handle. It's kind of like a tongue coming out of a pair of lips. I chatted about this with Tony before he died. I said "Tone'. I want to have a box where I open the lid and it blows a raspberry at you!". He said "I know, Dave. I find out where i can get you a card where you open it and it blows a raspberry. I can get it in Walmart I'll send you one!" Which he did. So, although I've not been able to make the box blow a raspberry, I can put the tongue out and pretend to make a rude noise. It's all in good fun and it helps me remember a really good mate.