We've just completed a pair of ebony bedside cabinets for one of my special clients. I was asked to make these pieces for the bedroom of a new London apartment that had just been renovated for my client. This is not their main home, I've worked with them on several pieces in that property but this was my first for the London flat. An architect had been commissioned to do the conversion and he obviously had got involved with some of the decoration and styling of the interior. The reason I say that is that it was full a very fashionable Wenge timber and plain rather masculine surfaces.
The furniture had to fit in with this environment. Yet I didn't want to make something as brutal and overwhelmingly masculine as this for a bedroom. I wanted to do something for them that was a simple black cube with subtle details and beautiful construction. We decided we would inlay a circle in the top of the cabinet in the same  veneer but changing where the veneer was taken from log. Very subtle. I used circles and squares on this design. These are classical design elements that have been used for thousands of years. If you use them, and they are great things to use because you can't argue with a circle, you have to use them carefully with subtlety.
I echoed the circle again into details that we inlaid into the surfaces of the drawer fronts.  Again this was done with simplicity and subtlety. The only thing showing being a faint ring of light where these discs are raised above the surface.
The top surface of the cabinets are slightly dished not dead flat, they hollow towards the centre of the piece. All of these carefully considered but small details come together I hope to make a piece of interest and integrity.  Certainly these are quality pieces of furniture, however I doubt whether any of them will register in the photograph.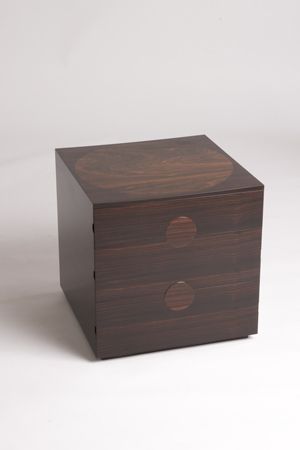 When I was researching my book "Furniture with Soul" one of the top furniture makers I spoke to said "Dave when it's all said and done were all in this great photographic competition" Now maybe he's right and the image that goes pop off the page will carry the day and the reputation of the maker. But we're talking here about objects not digital files and it is the human being in contact with the actual furniture that should be making the judgement not "the great unwashed" seeing a picture in a glossy magazine.
Somehow I think I'm going to be shovelling snow uphill here. But I do believe that "less is more". I believe in visually simple resolved objects that conceal their complexity, that visually implode, reserving their character, their details and complexity. So to be discovered later upon acquaintance. Like an interesting friend, so much more interesting to know than the showy arm waving extroverts.
david savage