Just a line
We see makers here at Rowden rushing about and then suddenly they go into slow motion . Stopping to think and GET THIS BIT RIGHT. Now is the time for that bit of marking out. Get this wrong, dammit, we have all done that, careless, fast, hurried. Or just not looking hard enough  and we doom ourselves to wasted time and endless frustration.
Pencils
The Ferrari of mark making tools, the pencil, light, fast, great on the corners.  Pencils are just fine, I don't go mad on which ones, all make a mark with a thickness, a density, and need to be chosen for hardness or softness . A hard pencil will have an H rating  and soft pencil a B rating HB the most common is smack in the middle .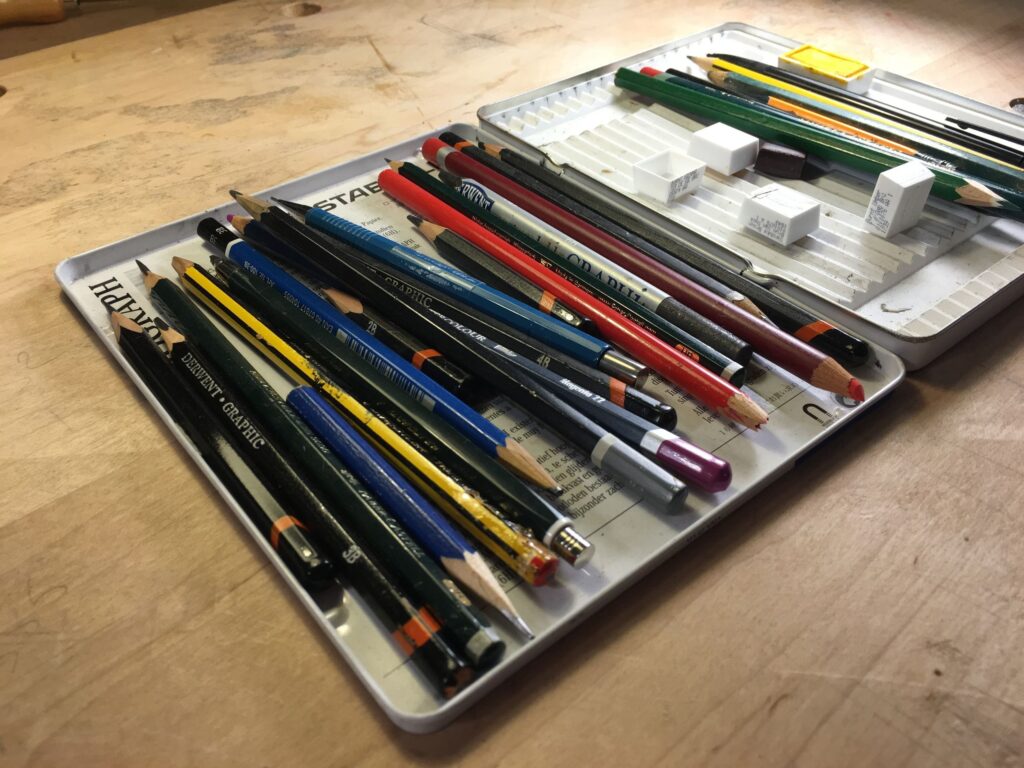 Because I have trays of different pencils in the studio for drawings some end up in the tool box. So I will chuck in a 2H and an HB. For pity sake please buy decent quality pencils from a good artist supplier and they will sharpen more reliably. Cheap pencils sharpen then the lead snaps off.
Bench Knives
You don't sharpen a pencil with a Marking Knife so decent bench knife is needed. I have as few but my favourite is a plastic studio knife that has a blade that pulls out . When I need a new point I can just snap off the end giving me immediate sharpness. The blades are replaceable . Another bench knife is a chip carvers knife that fits the hand nicely . I will chuck one of those in the box if i can find a spare.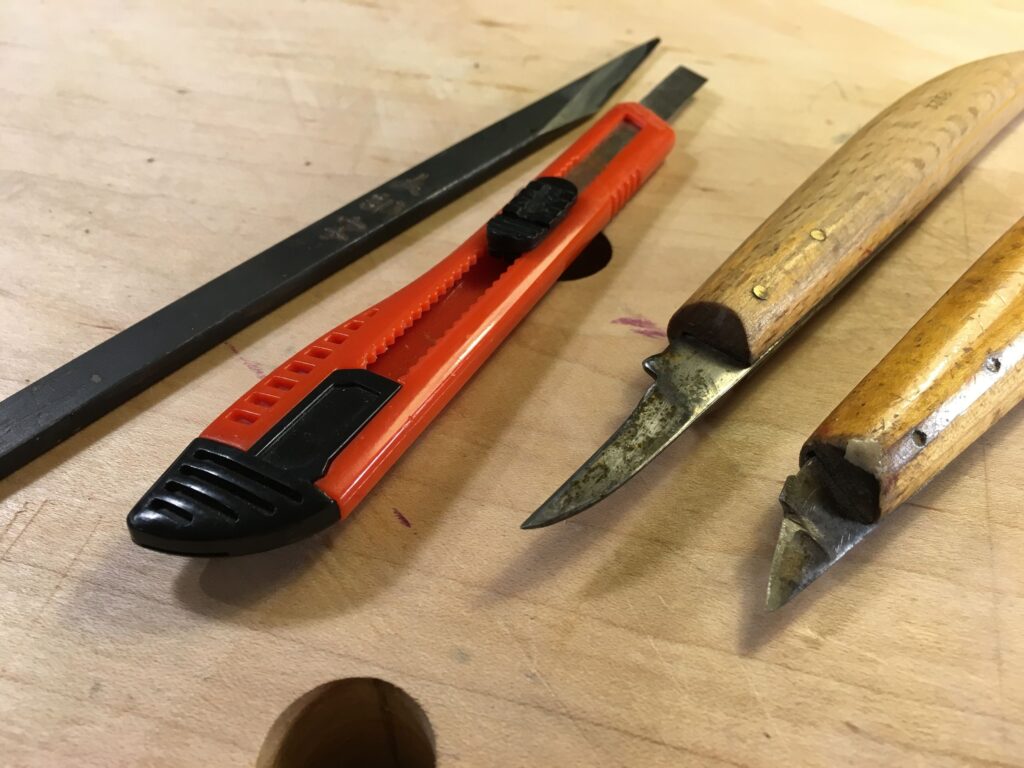 I have another blade I bought in Japan for a huge amount of money. I was taken to meet a blacksmith who sold me this blade by demonstrating how hard the edge was. He took a mild steel hoop that normally lives on the handle of a chisel and shaved a thick steel paring from the inside of the hoop. He then handed me the blade for inspection it was in pristine condition. No this one I keep.
Marking knives
Marking knives are at the very heart of accurate work.  They give you the line with NO THICKNESS they give you exact dimensions.  I have been using a knife from Blue Spruce for a few years now . I saw that Chris Schwarz had one as well when he came to Rowden. Do not feel bad about spending a silly amount of money on this tool, but only if you can afford it.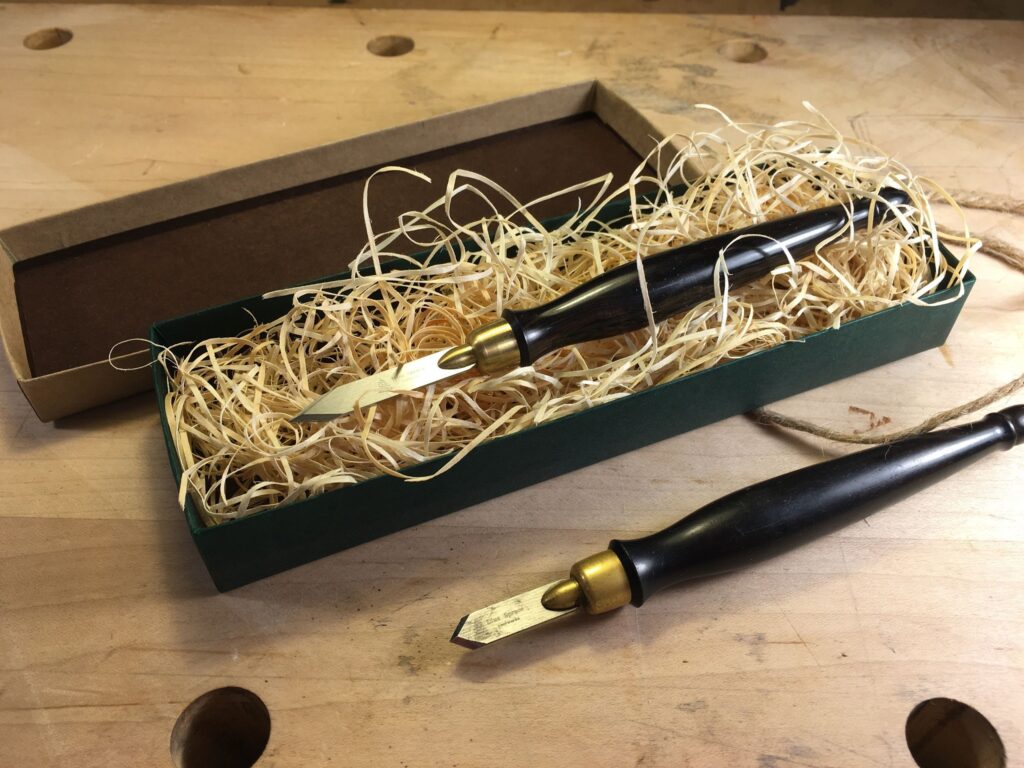 When this knife arrives it is in this lovely card box tied with simple string with straw snuggling around this precious knife.   The handle comes in a number of swish hardwoods, I chose Blackwood the blade is long and pointy. This is great for feeling the "snick " as your blade locates the existing line that you want to extend around the corner. We bought ours from Classic Hand Tools
I was stunned how my blade had been worn back over the years. Maybe I will keep the new one and not tell anyone.
We received an interesting email from a reader who uses the Wagner MMC210 moisture meter
Dear David
I have been using a Wagner MMC210 moisture meter in the workshop for the last 7 years… all fine until today when it has decided not to work. On looking online it would seem that Wagner meters are prone to suddenly not working… grrr!!
Have you got a reliable pines make that you are happy with?
Best wishes
Kevin
Yeah, we use the Wagner meter. The old way of doing it was not suitable for a mixed sex workshop. Keep the board in the shop for a few days to warm up. Drop your trousers, sit on the board, if it feels wet it's too wet to use! Remarkably accurate!
Have a marking day!
David
Thanks David for the technical tip! In the meantime I contacted Wagner in the States and not only were they very apologetic but they offered to replace my old meter (which is 7 years old) with the MMC220 model completely free of charge!! Now that is a service to benchmark against?
Have a blustery weekend 
Best
Kevin
WOW. That is a customer service to shout about!
Best
David