CAN YOU HELP US FIND A WINNER??
Chris Schwarz came here this summer and made this wonderful tool chest. He sells these is America for $4,000 which is a pretty fair price. We are offering this chest a s prize to a young talented woodworker full of tools and with an all expenses paid trip to Rowden for a one week course. ( this will be for the finalists)  . Entries close Nov 30th 2015. MORE DETAILS HERE pass it on
All they have to do is send me at this e-mail a short paragraph about them selves and why they make and a file of images of what they have made . Anyone 25 0r under. I am not restricting this to U K but finalists would need to get to Devon for the week course and would need to get the tools chest home if they won.
WHAT TOOLS GO IN THAT TOOL CHEST????
Today and over next few week we are going to look at the tools we are putting into this chest and why. The aim will be to fill the chest with either new or second hand good quality tools . Many will come from my own tool collection or from Rowden tool boxes, or, maybe from donations .  What I can find here I will ask other makers to help donate and what is left we will buy. Maybe one or two tool sellers and manufacturers are going to be asked to contribute a specific tool that we cannot supply ourselves.
Chisels
This will be controverial. Well, this is an English tool chest and I wanted Sheffield steel chisels. I could have gone for Ashley Isles chisels which are very popular in Rowden. But I didn't.  I could have gone for Lie Neilsen carbon steel chisels but they are American and I get the message from my students that one member of the LN staff is pushing the O2 chisels as being just as good as O 1 steel.  Well, after 40 odd years doing this I would disagree. O1 Carbon steel takes a sharper edge than A 2. This modern A2 is great above 30 degrees. It is also great for the amateur who does not sharpen every day as it hold the 30 degree edge for a long time. But a bench chisel is not just for battering with a mallet.
At Rowden we grind at 25 degrees and hone at UP TO 30 degrees ( without the training wheels) . The advice we give is once 30 degrees is reached regrind to 25 degrees then you can pare and chop with the same blade. Above 30 you can only chop.  I have a mixture of pre 1960 Marples chisels and Japanese chisels in my own tool chest and I have bought these blades below on Ebay for my own students . The steel is hot forged not cold fabricated. This makes it I believe a carbon steel better than O1 which is the modern high carbon steel .
So I have gathered a mixed set of Marples  and Sorby blades plus a very nice thin bladed paring chisel that I have had for 20 years. You can see from the existing Marple labels two or three of them are hardly run in let alone used. Most have boxwood handles and the narrow neck that defines the period of sheffield steel that I am talking about . Pre 1960.
I use Japanese paring chisels so this lovely paring chisel will go in the chest. A really beautiful tool thin bladed, forged steel as hard as it comes and sweetly shaped by an expert. Jon Greenwood bless him is tasked with the problem of flattening the backs of these blades and grinding and honing a perfect edge. Ready for work.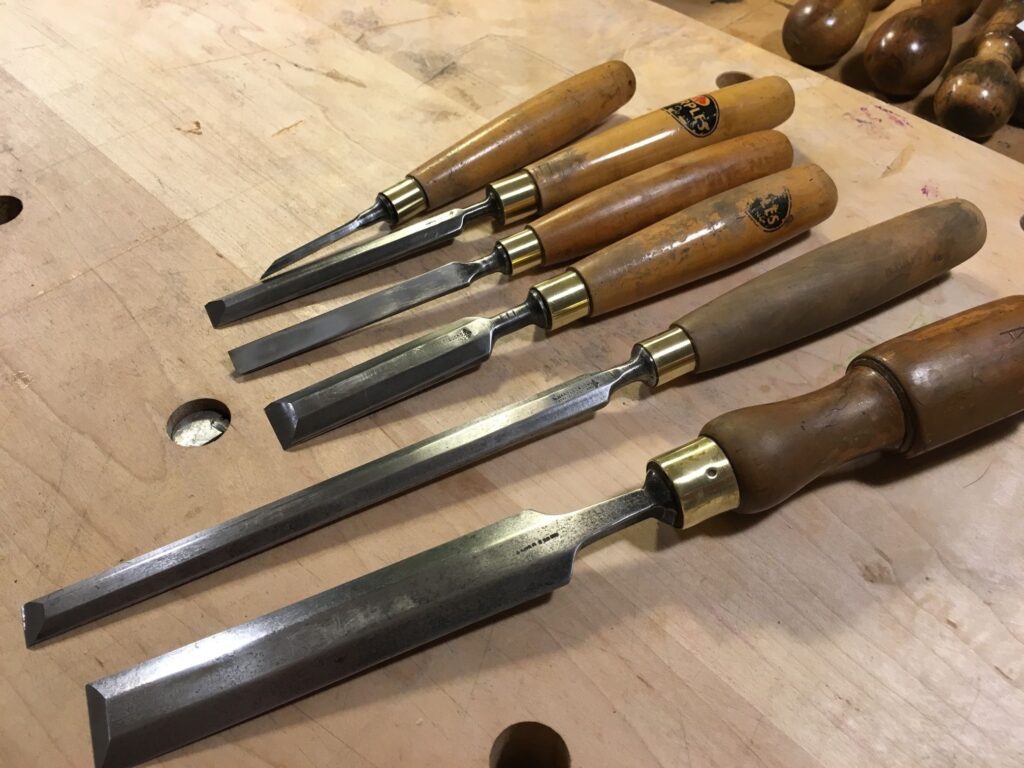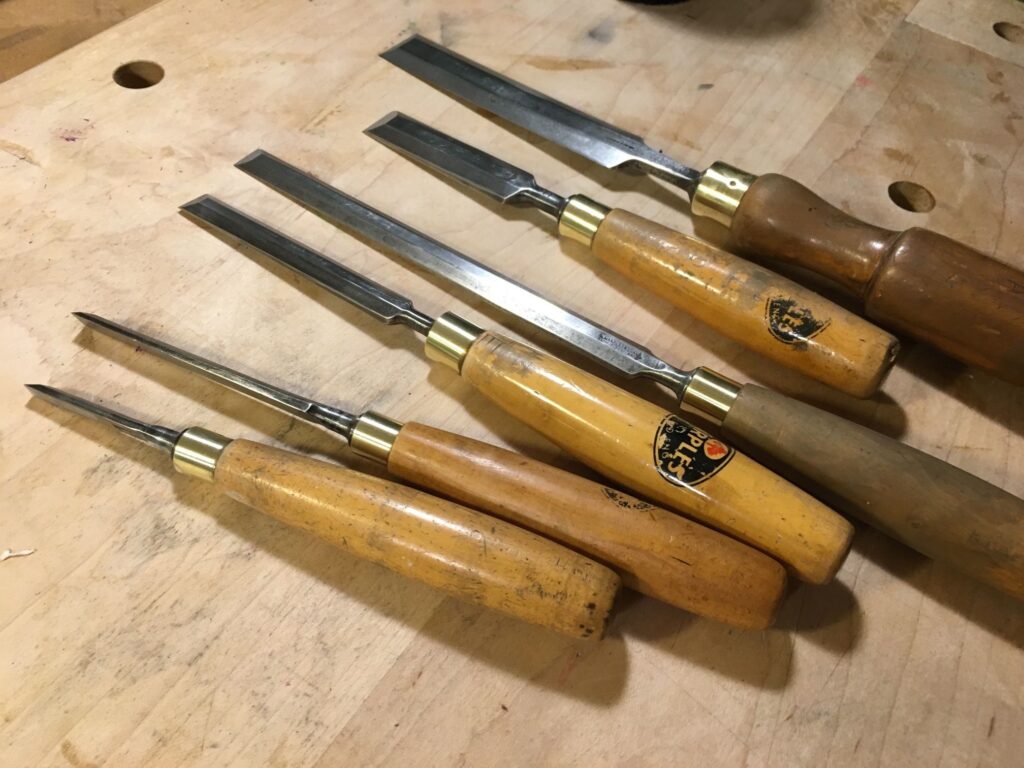 Next screw drivers, then marking and measuring, then maybe planes. We are really stuck with the saws!
MEANWHILE can you put this blog in front of any deserving young woodie you know