Lakshmi Bhaskaran is an experienced journalist writing in the field of design. When she sought to become one of my students I thought it would be an interesting experience probably, for us both. Although Lakshmi has great experience of writing about other designers she had never never taken the challenge of actually doing it herself.  Teaching furniture making is relatively straightforward teaching furniture design is another matter. I subscribe to the idea of education being a process of leading out.  In bald terms showing people various methods and processes, letting them have a crack at it, and then helping them if they fall down.
During her time with us Lakshmi has been writing a regular article for  Crafts Magazine under the banner of The Apprentice. So it was with some interest when I read her most recent article.  Lakshmi describes the process of taking on her first design challenge  making any rosewood coffee table with a concealed magazine shelf in Honduras Rosewood.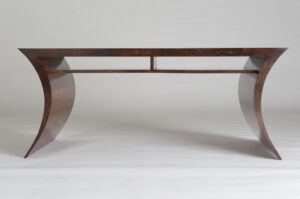 " Without doubt the design process was the most challenging part of this whole project for me with no real previous drawing experience, let alone design experience, I was definitely outside my comfort zone. I also needed to discover that you don't just sit down and "design a table." Design is a process in its own right; it takes time and it doesn't just appear. It doesn't help being as impatient as I am! The other thing I had to learn is that time spent working through design ideas is never time wasted; is very much part of the creative process, and should certainly be treated as such. What resulted was all about the wood: recognising its strength and ability, and pushing its strength to the limit. Indeed in many ways, it's more about the material than "design"- and of course it's only by thinking in terms of design and that we get to make any of this happen.
Although I didn't grasp this at the time, making a box out of Honduras Rosewood first- with all the problems that this entailed- was actually a blessing in disguise. Not least because it provided me with the opportunity to see firsthand exactly how this wood behaves [ not very well, in this particular case]- and to make a number of decisions about the process based on this information."
One of my great arguments is against designers not taking sufficient account of their material. Time and again we see designers especially architects proficient in computer modelling attempting to create a form in a material they have almost no real comprehension. A good example of this is arrogance is seen in the work of the architect Armanda Levete who at the recent Furniture Futures Symposium at the Victoria and Albert Museum described how she wanted a particularly fluid design for a one legged table. Thats fine and pretty, but she wanted it created in Carrara marble. She waxes lyrical about working with the skilled stone masons from Carrara. She described how at one point the supporting pillar needed thinning and it was the judgement of the mason that was decisive in arriving at the finished form. Now I ask who was in charge here, the architect with the CAD program and the long polished fingernails or the craftsman with a chisel? Design in this context is always a collaboration. However without knowledge of the material the designer is at the mercy of the craftsmen. He will tell her what's what's to go on here because he knows something and she doesn't.
The development of computer aided design and virtual modelling has been a revolutionary and positive development putting another powerful tool in our creative toolbox. However one of the darker aspects is that it encourages designers to lose contact with their material. It may well be okay in steel or plastics materials which have a consistency that can be specified.  But when you work in materials with variance of structure and grain, materials such as marble or timber a little more humility and a lot more knowledge is appropriate.