I'm still off on my buying trip, but I have now gone up to the Midlands to Whitmore's Timber in Leicestershire. Again this is a supplier we've used for most of my working life. It's a big ol' timber supplier with yards and sheds covered in logs selling all kinds of solid wood both imported and native. You need to make an appointment to go around the yard and then one of their very competent yard men will get the timber out that you're looking for, put it on a stack and leave you alone to sort through the pile picking the boards you want. I was looking for three inch American Walnut. Ideally I would want sequential boards, but we buy this stuff saw and square all round and kiln dried to an inch of its life. All American stuff comes over here like that. And they don't keep the boards in sequential order as they've come off the log. They muddle them up. So the chance of getting sequential pieces of timber is almost nil. Nonetheless, it was worth a try! I need to create components that are six inches thick for the pedestal of this substantial table. But timber doesn't come in six inch thicknesses so we're going to have to join down the centre two three inch planks. It's important that we get the colour matching perfectly so what we're doing is instead of getting sequential boards we'll use one long board cut in half and place the top of the board on the lower end of the board. And hope the colour will be common to the whole length of the board. This is about require some careful joinery and some pretty skilful use of the bench plane to prepare the surfaces and make an invisible joint. Joining timber long grain to long grain is extremely durable I have no worries about that. Nevertheless, I wouldn't want the join to be visible.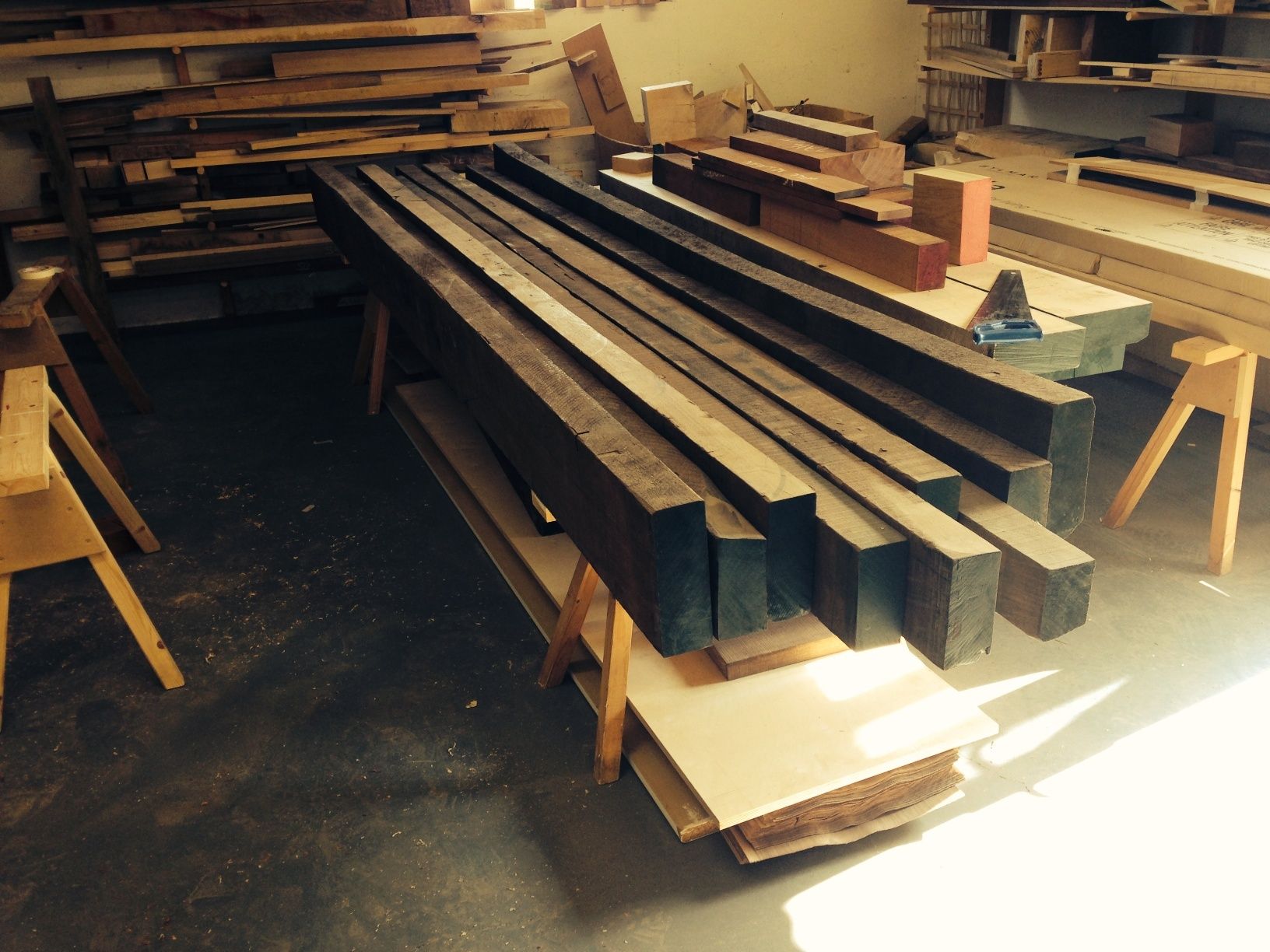 The yard man, Andi, was really helpful and didn't bother me while I puzzled over the stack of Walnut. These guys chuck great boards of timber around as if they're match sticks while I was struggling and sweating over really quite heavy boards. They showed no sign of amusement what so ever. Came away with ten pieces of wood that were clean and of similar colour that I think will enable Steve to get on with the pedestal with good order. If we need more then there is at least enough work for him to get going.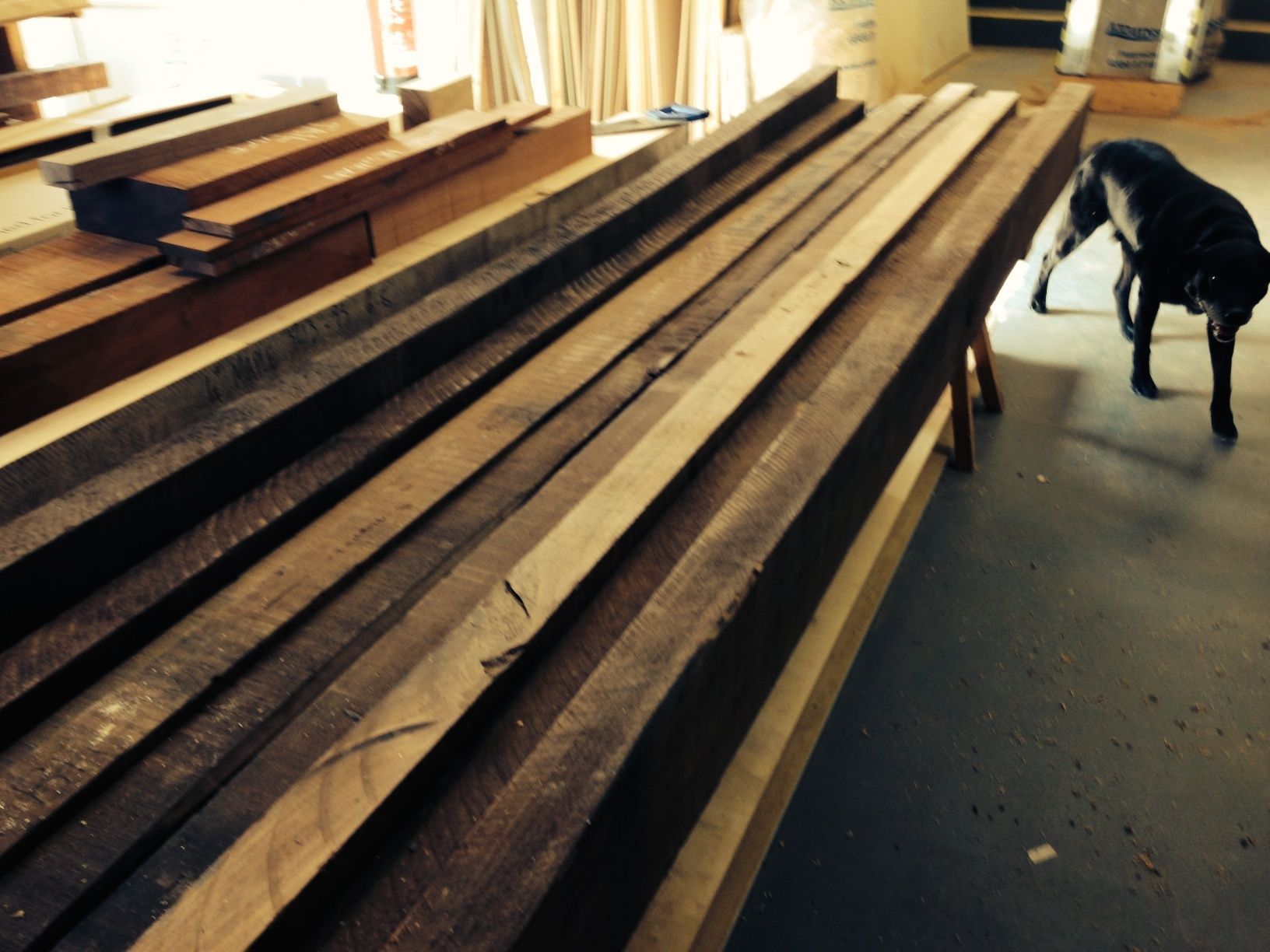 In this shot you can see the timber back in the machine shop after delivery. The dog is Bilbo, thats my dog,  he came with me on the trip and comes to work with me every day. His job is to get me off the damn computer, and take me for a walk every day. If i am really good I get to fetch a stick out of the lake.
I hope I haven't over ordered, I don't think I have, I always try to put one extra board more than I need. It costs me money to come up here to Lutterworth. But I save money by buying the right amount of timber rather than letting Whitmore's choose and send me run of the mill timber and probably a good deal more than I need. We teach our students how to cope with timber merchants who over supply you with very expensive and defect ridden timber. I'm not saying that Whitmore's is particularly prone to do this, but we have had some pretty rubbish timber from them over the years as well as some pretty good timber. Whitmore's are no better nor worse than anywhere else. However, the best way is to go to the yard and choose the timber for yourself. Then you have only got yourself to blame.