28 January 2018
I got this letter from Steve, who is leaving us after nearly two and a half years training as a furniture maker. I thought I would share it as it tells great deal about what Rowden really stands for.
Dear David,
I wanted to write to express my gratitude and appreciation for the last two and a half years at Rowden. I came as a complete beginner with a passion to create beautiful furniture. I leave, not only with a rich skill set but also a real understanding of what "fine furniture" means. Not just how to make something well, but how to push every stage of the process to make something worth making. And much of that is down to you.
You have set up and held a vision for a workshop and a school that is unique in the world. It is a place where the heritage that we have in this country of fine cabinetmaking is not only kept alive, but developed. A place where the craftsman is valued every step of the way, shaping , assembling, and finishing things that machines cannot.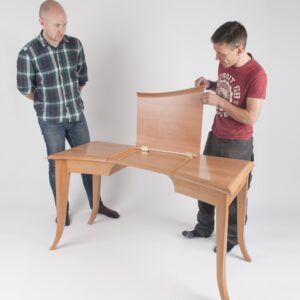 So thank you. Not just for Rowden but for your personal input. Whether through your Dimblebies or mentoring sessions or just a quick chat about my current project, whenever I have approached you. You have supported, guided and pushed me to be the best I can be.
I wish you personally , and Rowden as a whole the very best for the future.
warmest regards
steve hickman.
PS I will certainly keep up the drawing!