Looking at Art.
We all seem to want to look at art for different reasons. Certainly it is much more of a crowd activity than it was when I was a boy. Then you had rooms to yourself, now you book your time and march around in a line of animated japanese tourists lead by a tour guide with a mic and you with wifi headphones. Getting into the Uffizi is a game. Italians typically don't tell you how to negotiate the system, but they set up a complex system of pre booking collecting and finally queuing to enter. I was due to collect pre booked tickets at 9.15 to beat the crowds, I finally got to the bottom of the stairs at 10.15.
I talked to an American couple behind me in the queue, had they been before? No, than hang in there its worth all this rubbish. Yes I had been many times since my first visit in 1968  only two years after the Arno had flooded . I come again and again like I go to the National Gallery in London. I go to see old friends that have moved me in the past, and hopefully find something new to amaze me.
Of course like all art galleries the Uffizi has its share of Shlock, Colour, Pretention and Incompetence. You need to Kiss a whole lot of frogs to find a princess or plough though a lot of  Bad Art to get to the gems. And its getting harder and harder to get at the gems as curators have to protect their darlings with sheets of bulletproof. And then the crowds are so much more.
Why so many people go to Art galleries is interesting. I look at the painting if I like it I may look at the the name of the artist in BOLD on the card. I carry on looking and if I get interested I read the card. A camera phone only comes out after about five minutes hard looking.
What I have seen happening, which is very odd, is the reverse of this practice . She will be looking for the hot paintings so hunts for the name first . When she finds one she has read about and she knows is "important" the camera comes out to take a shot of the image, a selfie with the important image behind comes next, and finally a quick shot of the card by the painting to read later. Looking at the damn thing just is not part of it. What I believe is happening here, is Art is being used as social self betterment. Proof, with images to display that I am now a more cultured person than you.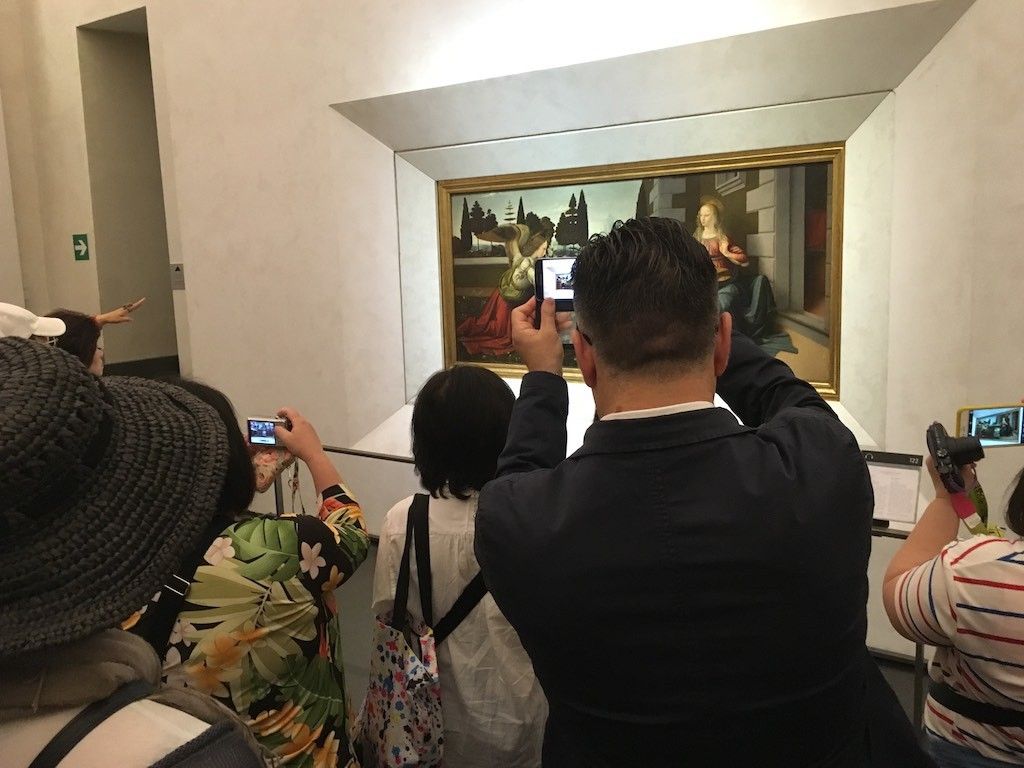 Major pieces in the gallery are surrounded by such intense camera clicking crowds that it requires a certain strategy to even get in front of the damn painting. Fortunately I am large at nearly six foot and fairly broad, and I don't take camera snappers lightly.  Sometimes it is impossible to focus as the tour guide will be murmering away about this and that to his brood. Why for pity sake can't they just LOOK. Shut their gobs and look.
Great Art, and thats why I am here, has the power to move you. It doesn't happen every time but I was fortunate today. The last time was in New York in MOMA when I turned a corner to be confronted by a late period Picasso. That so and so made me feel like I had been picked up, shaken, and returned to the ground six inches to the left.
Here it was more gentle. "The Girl on the Half Shell" as Joan Baez called her. By Botticelli, I last saw her a few years ago hanging high covered in glass as her her room was being "redeveloped"   When I first saw here as a student in 1968 I could almost breath on her. Hung low down I might even touch it before some officious guard would come busting out. Such a work of love. Executed with outstanding skill and imagination. It blew me away then and I keep coming back for another dose.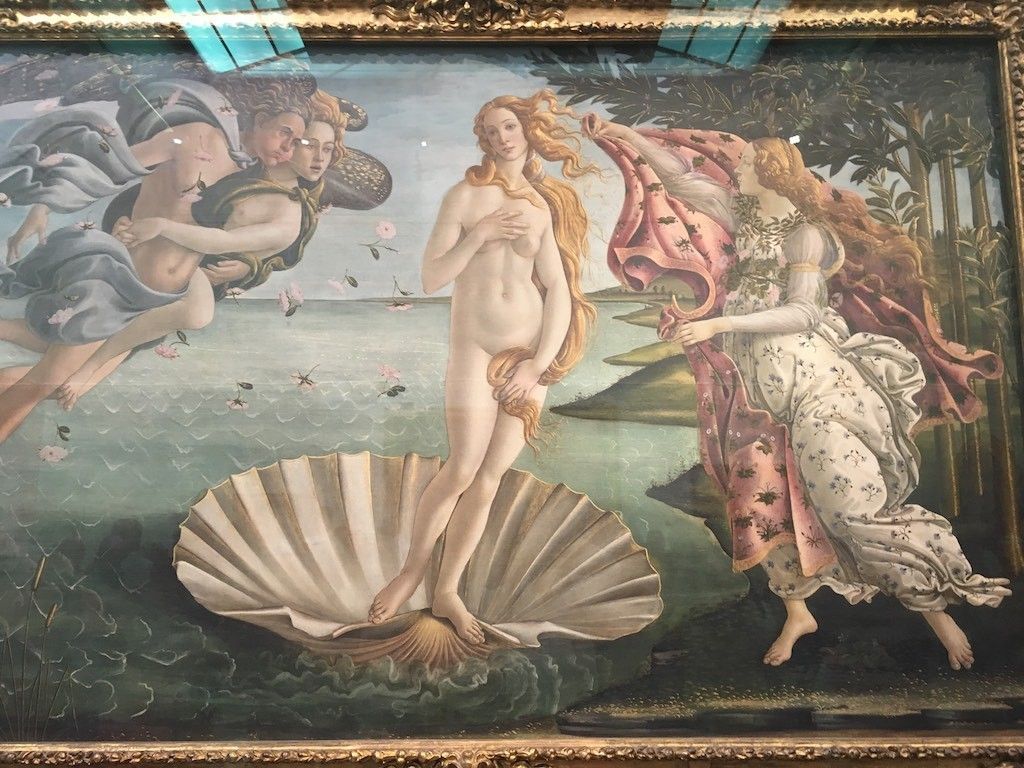 This time she was hung low and accessible . Thank you Uffizi. Quite simply she made me cry. I stood looking and looking for a few minutes, exploring the painting . Really, really, happy to see her again.  I took my pictures and carried on looking and the tears just came. They welled up and poured down my cheeks.  After a while I had to go out into the corridor to sit and recover. Now thats what I call being moved by great ART.
PS Overheard this afternoon at the Gallery d Acadmia. Spoken by a young American woman probably about 23 years old. . "I wanna take a selfie with my finger up Michelangelos Davids Ass"
That would make you weep but for quite a different reason .