I have these two great big boards of French Walnut in my studio . They have been carefully fashioned to go together . Sequential boards from a veneer quality log that I found in a timber yard in the midlands. This table top, for thats what it is becoming.  Two lovely bits of wood meet in the centre with a waney edge taking your eye to a piece of Anish Kapoor sculpture in my clients home.
Steve has taken the job so far, now it comes to me to polish .  Much easier to coat it in plastic lacquer but thats not the idea. We need a polish that protects and can be used with some care . Morons that leave biscuit tins sitting in a pool of cold tea over night do not attract any sympathy from me. So careful and happy general use, wiping with a damp cloth, nothing too wet or too hot and left overnight in reasonable state. These am de rules.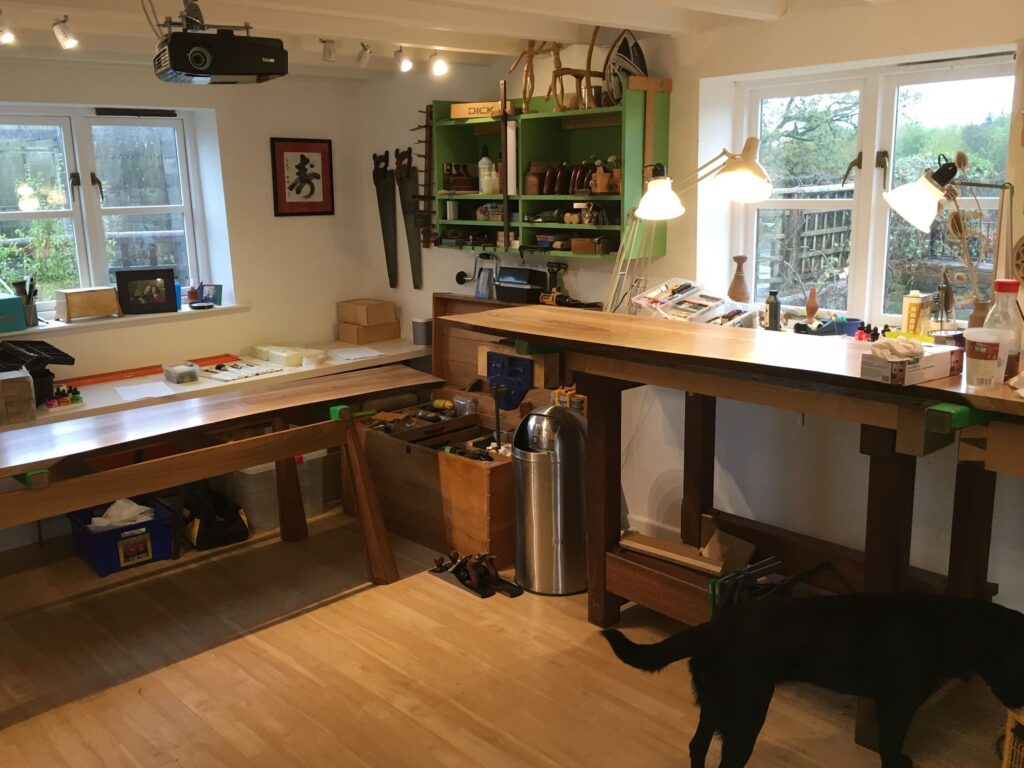 First its not oil. We use a workshop made polish based upon the commercial Danish Oil . Its  Pure turpentine , Tung Oil , and Phenolic Varnish.  The last is the hardest to get. This is an old fashioned,  exterior quality marine, or "spar varnish " Varnish suppliers are getting very coy about what they are selling . It took me three goes to get this from Ronseal my most recent supplier. They would rather sell me a water based varnish but i don't know about that. I do know Phenolic its high solids and a very tough surface. Tung Oil is there to help you rub out the varnish and Genuine Turps not turps substitute or white spirit evaporates out and smell nice.  All these part seem to go together well and age nicely. I have less and less trust in finishing house supplers who are I believe tempted to put in cheaper constituent parts to keep a place in a price conscious market .
For me this is the "haa puth of tar" that would spoil the ship.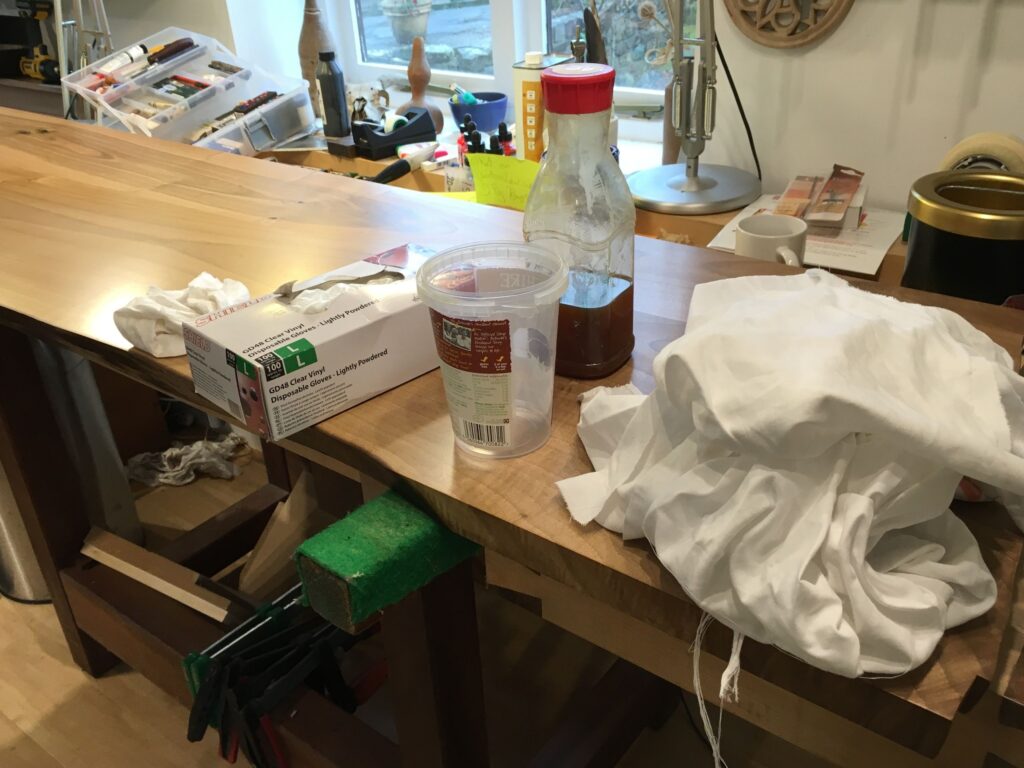 I know we all know how to oil polish but some of you might enjoy seeing how we do it at Rowden.   So here we are.  Start off with a putting the shine into the wood . That is either a fine planed with razor sharp blade or sanded. This table was sanded down to 320grit . Go carefully through each grade starting at maybe 120 grit then 150 then 180 then….. Check with a strong high source that none of the imperfections of the earlier grades are being left as they will show up when the polish goes on. Thats what happened to this job a few days into polishing and Jon comes over "wanna have look at this"  We had a small area where a scraper had been used and the hollow was visible and small scraper marks just visible. Grrrrrrr….  That means the whole surface of both have to be taken back to timber to keep them visually even. Jon put in a hard day with hard block sanding to sort this out.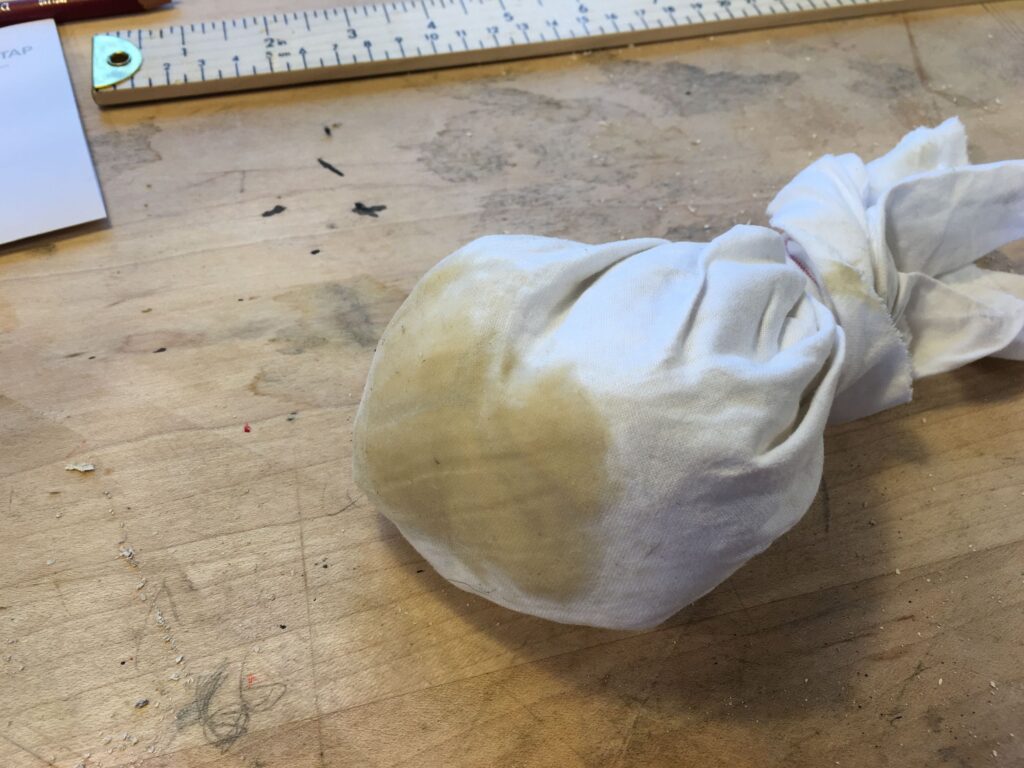 So yer got yer Jollop, now its slopping it on. DONT . Build it very carefully layer at a time. Rowden Finest Finishing Jollop  available shortly on our website has a pretty short "going off time" . Like a high class sports car it demands that you are good enough to drive it.   Here how.
From a pile of good washed cotton or line cloths choose some good ones to do the final coats and put to one side. the weave is important, scratchy polyester cloths are death to polish. Make up a small pad to put on and a larger ball of cloth with a nice covering cloth to wipe off.
I do these table boards one at a time and in two halfs starting in the middle and working out . Wipe on the Jollop  don't flood the surface but wipe it over in circles. Your aim is to fill the pores spread it out and allow the turps to evaporate ( warm room helps her) Then wipe it off. As the turps gives off the  Jollop stiffens and you need a bucket of elbow grease to work it. Now use the bigger rubbing off pad. As the pad gathers oil off the surface and begins to clog shift the surface of the pad to a new clean area .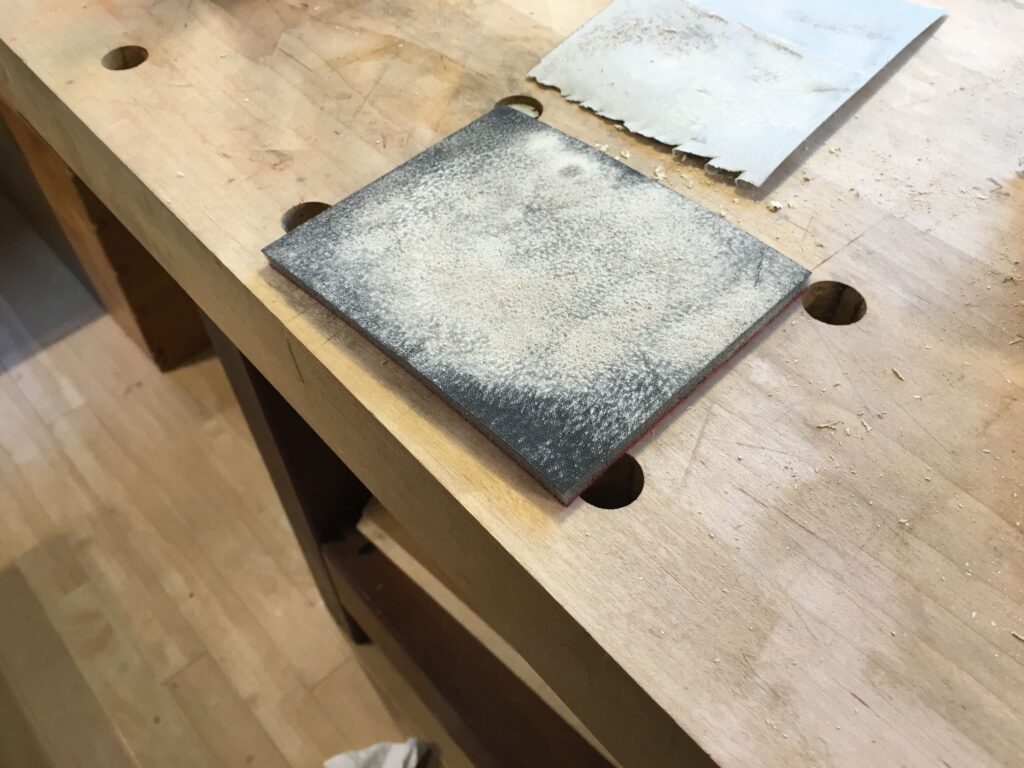 Wipe away the dollop in circles again drying the surface of wetness, and pushing the dollop into the pores of the wood . Use first circles, then, as the surface comes good, figures of eight, and finally straight lines, down the job. As the surface builds the touch is lighter and the polishing rubber used with greater sensitivity to how it is affecting the surface . We want to leave the wood as perfect as we can . Knowing however that it will be imperfect.
If the surface builds unevenly . Some areas are hungry soaking up polish, some are shiney very fast . You may need to knock this back with a mild abrasive. We use Micro Mesh pads 1000 grit and wash out the abrasive dust with warm water and soap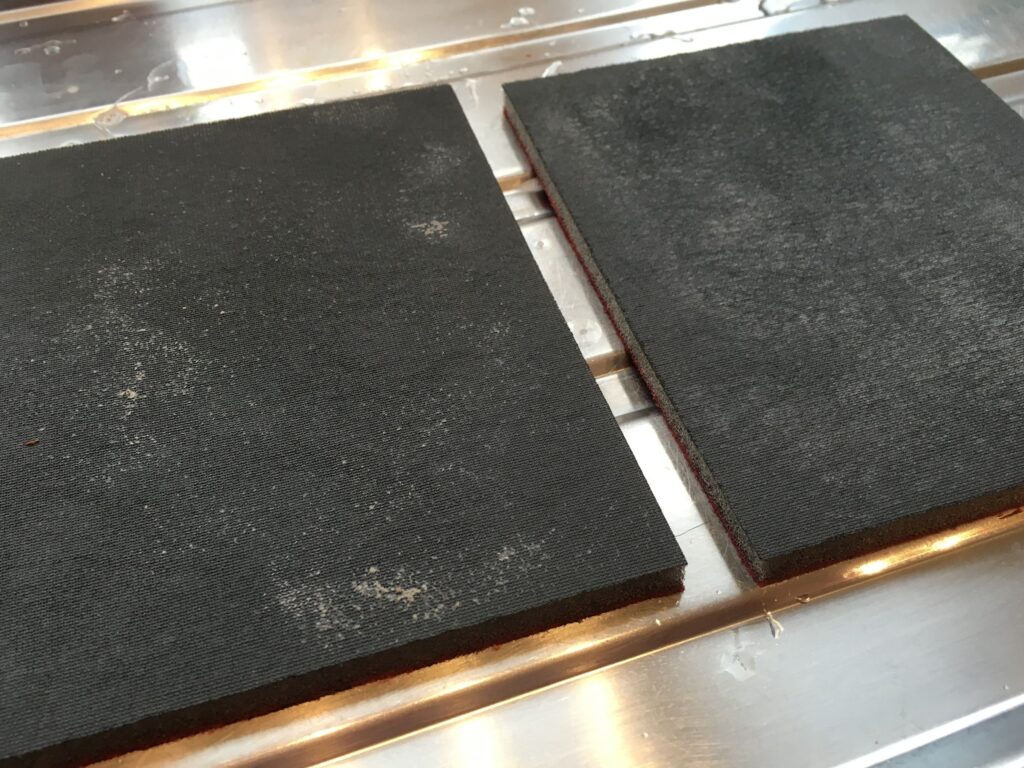 We probably allow ten coats put on over a week  depending upon the job.
Allow it to dry for another week  then photograph and deliver.  EASY PEESEY
To the Pursuit of Imperfection ..