Last week was our first Intensive One Week Creativity Course, held here at Rowden Farm Atelier, intended to kick start a new diet of drawing as part of professional practice.
It went at blistering speed it seems, but everyone felt they really got something of huge worth from spending a week intensively building a portfolio of still life, life drawing, working with a variety of mediums, and a chance to develop and then pitch an idea in a role playing game designed to help inform, and engage with, the real fun and creative side of this woodworking thing we all love to do.
Day 1:
Starting bright and early, 9:00 am, on Monday morning, students were given a summary of what to expect from the week. From there it was into a role playing exercise where a couple, Mr and Mrs Prospect, were inquiring into commissioning a piece of furniture, this then led to a piece of theatre intended to help visualise the way that the brain uses various methods to construct ideas.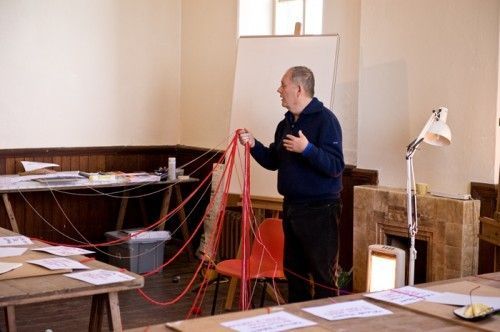 From here there was not a minute to lose, and the next task was to get everyone drawing as soon as possible. The first step in helping people learn to draw after having convinced themselves they "can not" is to break their preconceptions of how they see. The first task was upside down drawing. No, not suspending our students from the ceiling or getting them doing handstands… we presented them with an image and a piece of paper covering it. Then, sliding the paper down by about 3 inches, they were asked to draw what they saw… simple; copy the lines as they are. Once they had all the lines they were then able to move the coversheet down by another 3 inches. Asking them to try as hard as they could to avoid 'recognising' anything they saw as they unveiled more and more of the image. The results speak for themselves: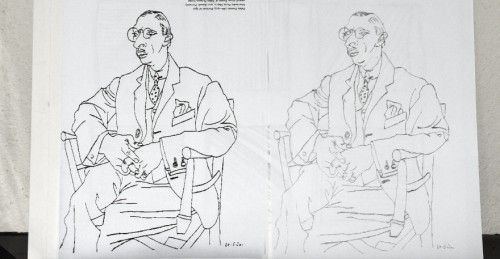 Yes that IS a drawing by Pablo Picasso; the achievement of this replication really helps affirm that, actually, drawing is about seeing and avoiding using preconceived memories to construct your drawing, because in reality things don't look how they look in your mind's eye… at least not until you've done a lot of drawing practice.
Daily Facebook Journal:
19/03/2012-Monday:
"Creativity Week – I was very concerned about this. I spent hours on Sunday preparing till 2 am but it is going like a dream. Typical of what we do here it is an intensive full on experience. My worry was to get six people who may or may not be able to draw a bit up to a good enough standard to deal with a Life Model tomorrow morning!!!
The focus and intensity this morning was encouraging I think we will have an interesting week."
With brief, concise tutorials, the students were shown the basics of measuring and set to work on some of the fundamentals of drawing, the building blocks; shapes.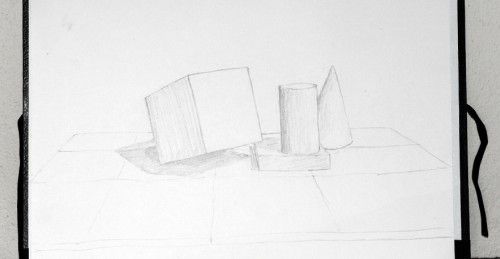 The day went well, and they moved on to more complex still life objects.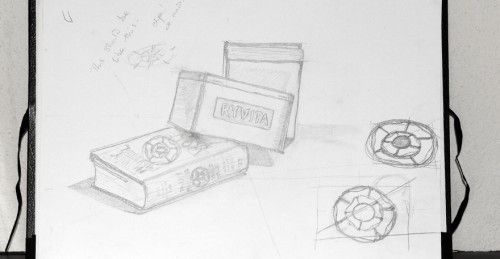 "Drawing is more about stopping and experiencing in full high density than anything else.
Sure we look, but we do not see; we have a visual experience but it is low resolution, low power, low value. To get the full cream, double whammy, we have to work for it; we have to looook really, really, hard. That's all drawing is.
Go on if you like living in a low resolution world, but not for me, oh no!"

Day 2:
Life Drawing!!! ALREADY?!?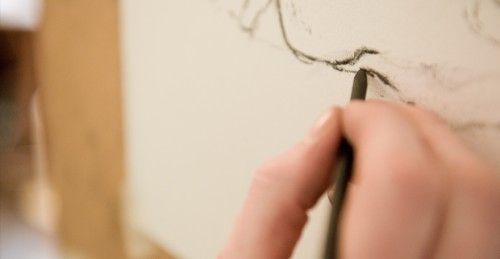 Yep, you bet. This is intensive drawing work, and there is a lot of ground to cover…
We got a local life model to come in for the morning on the Tuesday, and we went through a series of poses of various lengths, asking the students to use whichever medium they felt comfortable with.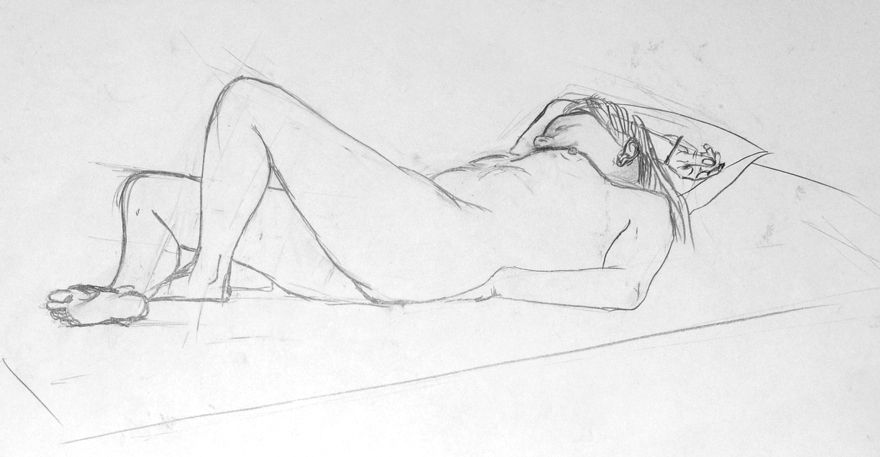 20/03/2012-Tuesday:
"Day two, session 2
Today is a tough day; this morning we had life drawing. Amanda was brilliant, and we all found the session inspiring. The human form is so wonderful, even if one's own attempt to draw it is rather sad, the time had been spent looking hard at a beautiful human being.
This afternoon I wanted something a bit lighter, play time, just cut loose andalusia marks. There is a sensuous pleasure in putting marks on paper. The brain gets in the way here, "why are we doing this?", "what's it about?", "what is it saying?". All this is tosh, we just make marks for the pleasure of it, fill pages for the sheer joy of creating a texture of DOING.
They seem to be swimming about as I write this. A couple of them didn't like the freedom "what am I doing?" But if you just chuck em back in they seem to enjoy the water. It must be very scary doing this when most of life does not allow much time for play.
In the afternoon we invited the students to let themselves relax and flex their creative muscles – using shapes and marks they had made in the previous exercises to inform their play."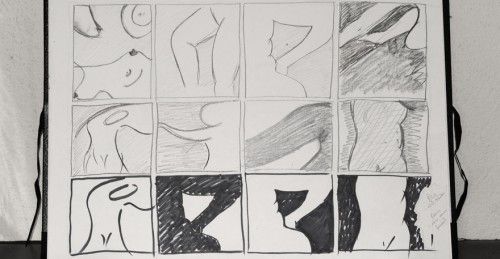 "The process seems to be make your bones, learn to look very hard, then you can play, then you can be expressive. There is a stage where the beginner can get too good at this, it comes easy enough, so you get lazy and a bit slick.
The slickness is a common fault, my drawings including, a superficial surface loveliness, but thin. What better than go for the real stuff and do the work. The sincerity of a well observed form."
Day 3:
Perspective matters. The students began the 3rd day with perspective drawings. Sitting in small groups on either side of the room they were asked to draw a doorway, with the door open and the space the doorway revealed. This is a massive part of drawing; understanding perspective, and reading your environment in truly three dimensions, noticing how a door, when opened towards you, has such a shift in perspective that the closest edge of the door looks too large for the frame…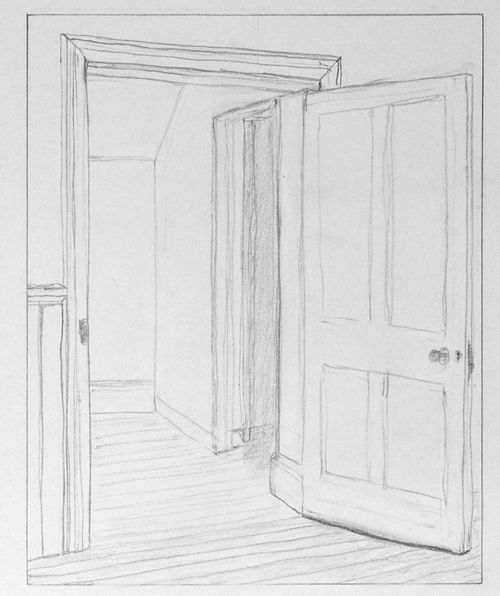 21/03/2012-Wednesday:
Busy, busy, week. I was delighted to be able to delegate a morning here to Ed Wild who took the course with great skill. They all did drawing of architectural features a doorway with the door open to reveal another room. Perspective blows some people out of the water. We need to know how to do it to sketch furniture, Ed would have had them doing this till Friday , till a week on Friday! And he would have been right, we are skipping over skills that need to be consolidated.
Then we moved on to a drawing of flowers. I had spring daffodils and tulips, Carol wants her tulips back but Ollie was still working when I went home. This was on watercolour paper. Done in a fine sensitive line later in the afternoon we could play with watercolour and maybe make a lovely painting.
In the afternoon I talk at length about perspective drawing and presentation drawings for clients then they have ago at watercolour and finish the flower drawing done in the morning.
Its all starting to make some sense I hope.
After the perspective drawings the students worked on more still life; flowers, with the intention of later using watercolours.
This was a real asset to them as on days 4 and 5 they would find this lesson helped when they developed their ideas for the brief that they received on Monday from Mr and Mrs Prospect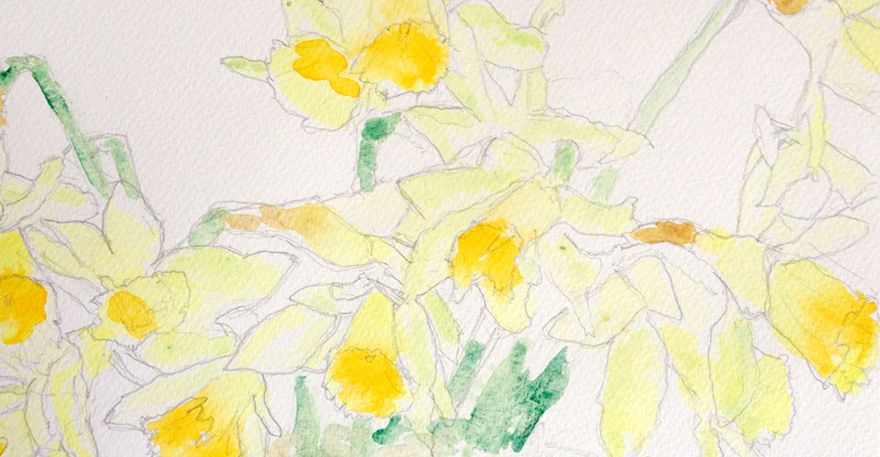 Day 4:
Another day another LIFE DRAWING SESSION?!?!
That's right folks, out of the frying pan…
This time we had a model in motion and very quick, 30 second poses, the students found this challenging but it really intensifies the experience and encourages much more of the swift mark making that captures the essence of the shapes of the model.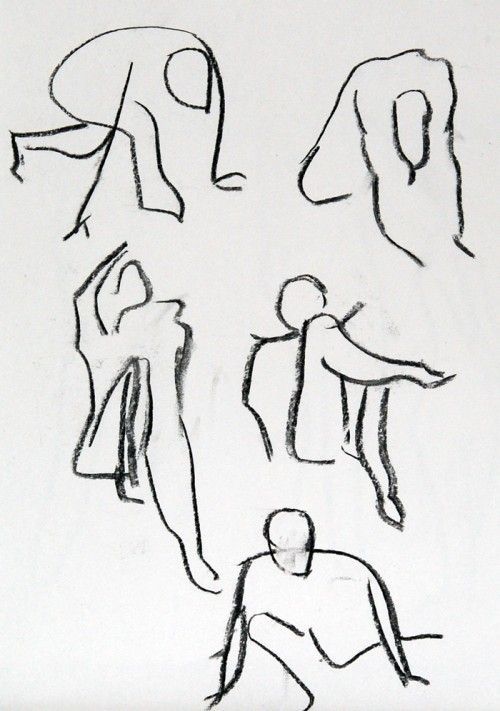 The quick poses encourage the students to make as few marks as possible but at the same time ensure that they have enough information from those marks to be able to make meaning from them. It is a lesson in economic drawing and, when learned, can be invaluable for drawing day to day, in cafes, parks, train stations, etc.
22/03/2012-Thursday:
This morning was a good one; Amanda was here modelling, and Ed Wild lead a great, but intensive, morning of Life Drawing "they are all pretty tired even of they don't know it" he told me at lunch.
So now what? We have had a series of days of different kinds of drawings; large; small; black; detailed; all taking an effort to make. At the start we had a brief from a client but I said do nothing except write me an e mail to tell me what you will do next, which *most* of them did. But NO drawing until now!
They have until 5pm today to complete a set of presentation drawings of one idea. Tomorrow, after a bad nights sleep, they dig for a second idea.
Never present just one answer…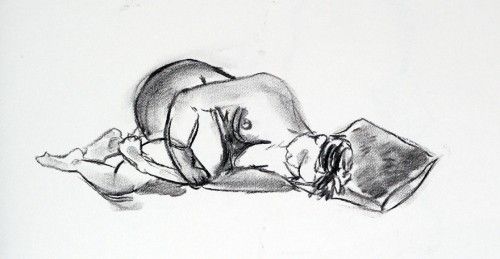 The next challenge was a long pose, which allowed much more detailed "seeing"
The second half of the day was given to 'downloading' a first idea for the Prospect's brief. This time is intended to bleed into the last day where they 'download' a second idea and present to the 'clients'.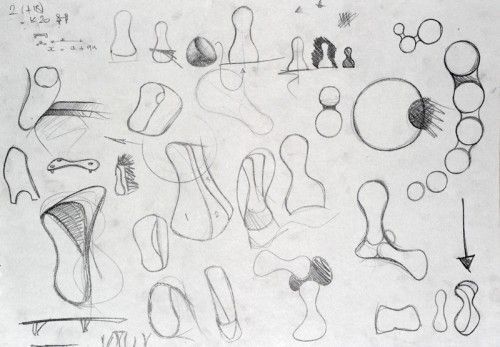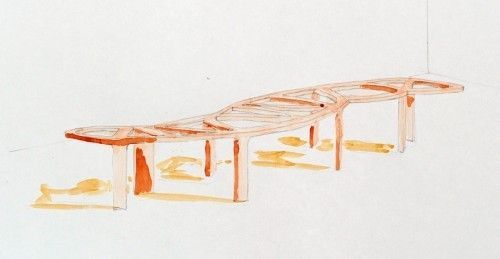 Day 5:
The Last Day…
We began, with some anxiety. Not knowing if this would work. But that is the nature of all creative process. And that is the focus of this week. That creativity is a process not a skill not a talent .
23/03/12-Friday:
We began by inputting the problem and then with simple looking. Asking to see, use you eyes and really really see what is there. Then we changed about and played a bit.
Drawing has a direct access to the unconscious mind, use it correctly and images will flow directly off the end of your pencil unguarded by the conscious mind. This is a process to gain access to this powerful mind.
Then day two, the complexity of life drawing, but what fun and what focus and concentration. The freedom of not having to think about anything else.
Day three back to looking hard perspective first thing then at organic forms, then a technical perspective drawing demo and watercolour demo then try out the watercolours.
Day four back to life drawing with play and downloading of first ideas in the afternoon Day five more down loading and model making and final presentation drawings.
Too tired to know quite what has happened…….
The students spent the Friday finalising their ideas on heavy watercolour paper and making models of them to present to the clients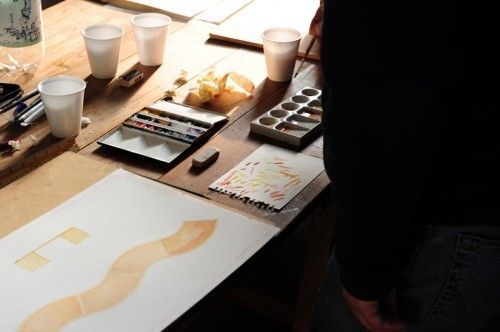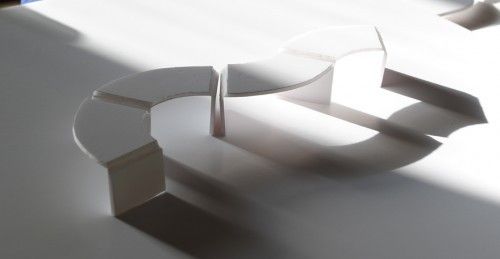 The variety of the ideas was very interesting to see, and the creativity in how they approached the brief was really an inspiration and really very rewarding for the hard work all had put in over the course of the week. A great culmination.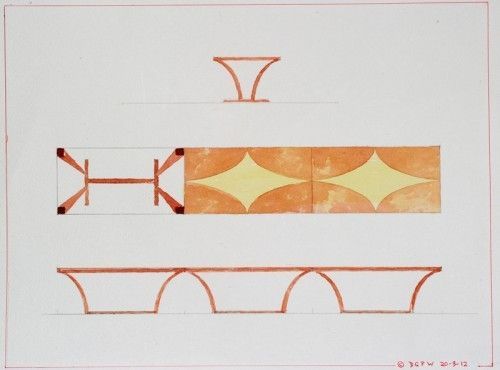 Some feedback from the participants:
Hi David,
Firstly thank you very much for the time and effort you put into what I can only describe as one of the most informative and enjoyable weeks I have ever had when I attended your Drawing and Design Course.
In the time leading up to the start day of the Course I was very apprehensive about what I was letting myself in for as my knowledge of Drawing was poor to say the least, I arrived on the first day totally ignorant of what was in store for me and feeling uncomfortable I was put straight at ease by your easy going manner
I soon realised that I was making steady progress and each time I was set a new task I was given the knowledge to tackle it and I was enjoying what at one time I would have avoided.
By the end of the week I knew I had achieved something and that my Drawing skills were going to be a valuable and enjoyable part of my Furniture Design and Making.
Your calm and relaxed way of teaching was a pleasure to be part of and the time spent learning from you will be with me for a long time to come.
Thank you for sharing your knowledge.
Feel free to use this email anyway you see fit
Regards
Michael Redmond
and another:
David
Thank you very much for running the creative drawign course. It all went well, met expectation and was a very enjoyable week.
My objective for the week was to enhance my skills of the "concept" stage of design so my work could less deriverative of other designers. The course fitted very well to my definition of the concept stage with the exercise of designing to a brief being very apt. I met this objective so I hope my design efforts will improve.
The drawing exercises revived skills propably last done whilst at school, many decades ago. The still life drawings required care a attention to detail. I found that I was able to speed up slightly over the week. The differing speeds of some of the exercises forced me to try different approaches. The exercise to draw perspective, (drawing the doors and windows) is very pertinent to the furniture design so I personally found this was very familiar.
I have never done any life drawing before and found this very challenging. The speed you need to work and the need to select the right key curves was difficult. (My wife has just read the last sentence and is laughing all round the house!)
The presentations of the table designs on friday I thought were a little rushed as I would have liked to have understood the thinking of the other students better.
The Half Moon at Sheepwash was excellent, not too expensive whilst providing all the facilities. The food was excellent, plenty of choice, some interesting dishes cooked with flair. Only problem was the quantities were large and it is hard to leave good food.
All the best and thank you again
Don Waters
If you're interested in boosting YOUR skills then get in contact to book a place on our next One Week Creativity Course… alternatively please feel welcome to join our FREE Online Creativity Course using the form below: