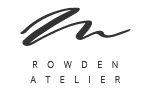 When I started a workshop and began employing people it became to me a serious thing. Taking on staff means being responsible for someones mortgage payments and everything. I know over the years i have had to make people "redundant" (there is a despicable expression) when times have turned hard, but this is something I have never done easily or without some heart felt care.
The Arts and Crafts movement had this "values" thing about skilled craftsmanship being a worthwhile expression of well lived life and I seized on to that. I have lived a life believing that. I still believe it in a wooly romantic roundabout way. They also had this view that an employed skilled maker could be employed with honour rather than exploited by the new growing capitalist system. As a young idealistic socialist i warmed to that and have always attempted to employ and give honour to skilled workmen and women. I couldn't do what I do without people like Daren Millman.
So when I see craftsmen and women being exploited in craft studios I get cross. I had a former student just come back from a period of work in a well known studio furniture workshop. The principal is selling furniture on a world stage for big bucks. He has a workshop that makes his pieces, he also has a design studio upstairs where young fresh out of college students come to work for a pittance as assistant designers because it looks good on the CV . They come and go with a regularity. That tells a tale.
The downstairs workshop has two camps of makers depending on their nationality. They are given a time to complete a task. Most fail to meet the deadlines and get to it by routinely working 60 hour weeks. Forty hours paid, twenty hours not paid. Hitting the deadline is not the celebration it might be, because the next job you find yourself with a tighter deadline.
Health and safety also seems to be an issue, toxic chemicals affected my friend, and a attitude to table saw guards is "Well if you feel safe without the guard you go ahead" We all take small risks now and again, but if the shop culture is that way inclined. NAH.
You can say "whats you beef", grow up, we have sweat shops all over the world making everything from t shirts to tiaras. BUT, we do not expect craftsmanship to be found within same building as the sweat shop. But it is. It is more the norm than I am happy to admit.
Makers are silly sods, they want to make something better. They, WE, because I have been there, and to a great extent I still am there. We want to make the world a better place, one piece of work at a time. We are content, not happy, but content to work 60 hours a week to get that piece out. Content because its good piece, and there is satisfaction and identity in having been a part of bringing that piece into existence .
I am quite wrong to believe in the woolly Arts and Crafts stuff. It makes me sad to see creative craftsmanship as straight forward exploitation, just like anywhere else, but it probably is.
My wife, the economist, talks of selling the workshop, and I talk about what is stands for, and all its old fashioned woolly values, how can they be retained. Silly really, lets just sell it, and my life will have been for nothing ……except money.