Shanghai Design
Monday was the last day of Design Shanghai and as the public left at 6.30 we begin "Tear Down" That was the process of packing all your stuff up into crates before the whole illusion of exhibition , walls carpets barriers were removed.  The polite call it "close down" I still use a term I learned at Earls Court Exhibition Centre. I lived near there for thirteen years. Back then anyone with a strong right arm and a claw hammer, who knew a man in the know, could earn cash on a Sunday night Tear Down.
The old exhibition stands were made of timber and nailed together . Our job was, bosh, bosh, bosh, tear it apart. Until by ten the hall was a big open space again . We then got paid and the pub was still open. Happy days.
I have been on the other side of this. I had a show at Olympia not far from Earls Court. My van had broken down on the way to collect me. We sat there with tear down going on around us. My little stand of furniture the last to standing  It was nine when the van finally arrived and I felt like had defended my furniture from a hord of hammer wielding vandals.
Back at the show in Shanghai Design the jackals were gathering . I told you that a group of angry exhibitors can hunt down an exhibition organiser like a pack of Jackals and make his life unlivable. They were certainly doing that, and my assistant was in there winding them up. Save your energy girl was my constant mutter "This is a long day and we probably won't get away until 9pm tonight. You will need energy late today, to help pack this stuff. I can't do it alone".
The jackals got a result as the organisers Media 10 came to us with an offer of compensation that was not the same as a successful auction but made the cost of bringing all the stuff home pretty acceptable. So that was a result. Media 10 to be fair had put up a pretty good show with more passing trade than I have seen in years. I however will talk about this later
The day closed  with the crates arriving fast and pieces being fastened away snugly. Bless him Alun Heslop had remembered to bring a cordless screwdriver and we all took advantage of his  good sense and good nature. thank you Alun it was lovely working with you.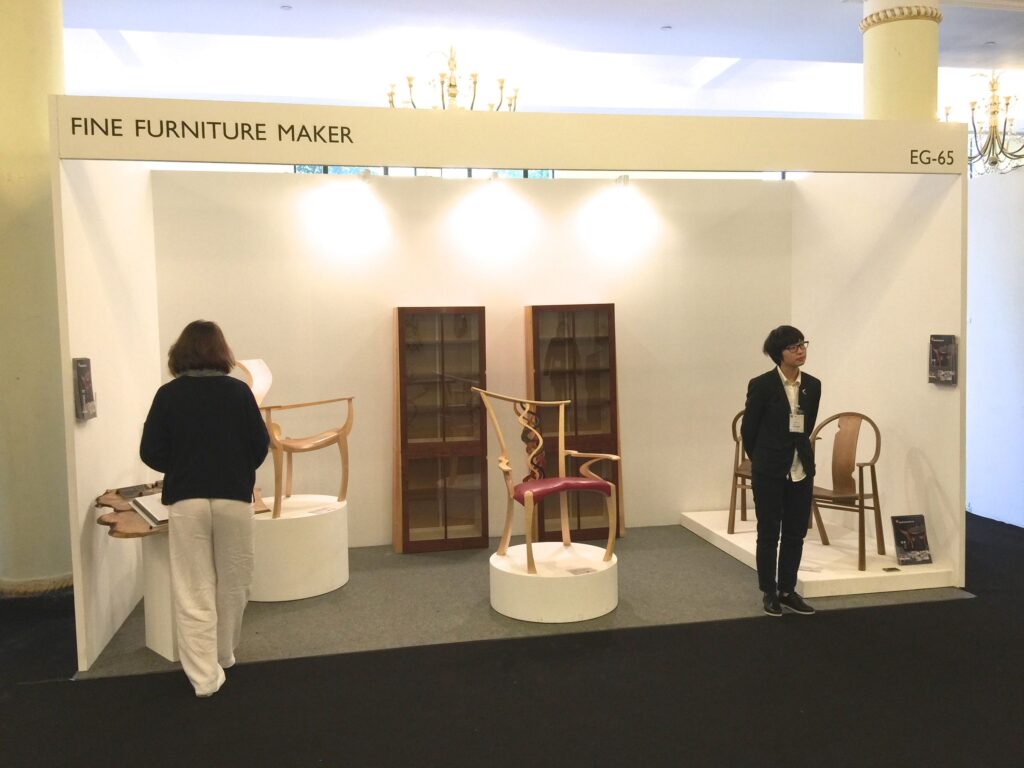 Before the stand was destroyed I looked carefully at the work. Shows like this are one of the few ways to see your work as a stranger would see. Fresh and new for the first time and in a public place. Is it any good is always the question? I dunno but I came away happy and contented that I had not wasted my time. We had talked the previous evening and I felt coming to Shanghai Design to have been a good experience and worth doing.
Colby our interpreter was brill, she was the one that said "Sunday at 5.30 is funny time for auction" . I came to her later and asked her why was it a funny time. "Everyone sits down to eat with family on Sunday at that time"
Grrrrrrrr…….